For the last three years all we hear from the media is the Packers have to get a number two receiver to complement all-world Davante Adams. Not getting Aaron Rodgers help is the common thread. The fact is, the Packers don't need a true "No. 2" receiver. And I don't think it would go over well with Adams if the Packers had one. He wants all the targets, and if Rodgers is the QB, he's going to get them.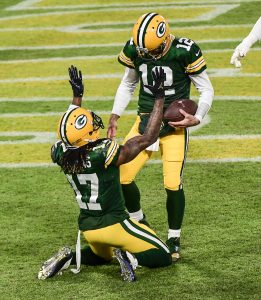 No player on the team is more dependent on Rodgers than Adams is. He is by far the most targeted receiver on the roster with 149 last year. In 2018 he was targeted 169 times. Like every team with a receiver like Adams who gets that many targets, the next guy is lucky to get half as many looks. Last year the Packers second most targeted receiver had 63. That's not a bad thing. The Packers were the number one scoring offense last year.
The Packers have a wide variety of receivers and tight ends and despite what the mainstream media like to say, the Packers are not devoid of talent at either position. Which is part of the reason the Packers are still one of the favorites to win the Super Bowl this year. If you are not ready to bet on them to do so, maybe check out new IGT WagerWorks casinos at goodluckate.com. Plenty of alternative action there.
Packers like to diversify
Last year Marquez Valdes-Scantling emerged as the so-called number two receiver. Number two in catches was rising star tight end Robert Tonyan. Running back Aaron Jones was third in catches. So, if the number two receiver was a measly fourth in receptions why do I think the Packers are fine at the position? Because it is a sum of the parts. MVS and Allen Lazard are the perfect combination for the position. MVS is the deep man and Lazard the possession guy. Between them they had 66 catches for 1141 yards, with MVS sporting a league leading 20.9 yards per catch.
The Packers will have all those guys back plus Devin Funchess and rookie Amari Rodgers. Funchess is a veteran who has had some success in the league but hasn't played back-to-back games since 2018. Rodgers is likely to fill the slot receiver role that has lacked a playmaker since Randall Cobb left after the 2018 season. Rodgers could end up being a big contributor in his rookie season, giving the offense a new dynamic.
I think the Packers are set in the pass catching department. Whoever is the quarterback opening day will have plenty of weapons to choose from.