Well, things have certainly calmed down now that Aaron Rodgers is back in fold and dropping dimes in practice once again. It's pretty much like nothing happened the last four months. The Packers are once again one of the favorites to bring the Lombardi Trophy back home for the fifth time.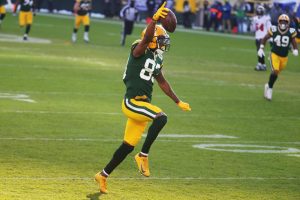 The Packers certainly have all the tools on offense to get the job done. General manager Brian Gutekunst has put together one of the best rosters in the league, and it is built to win now. However, there will be a little change this year. First off, all-world left tackle David Bakhtiari will most likely miss the first few weeks while recovering from a ACL he suffered last December. And they will also be without running back Jamaal Williams, a key member of their backfield, who left in free agency.
Dillon is a beast
The loss of Williams and his replacement AJ Dillon certainly will change some of the things the Packers do on offense. Williams was a jack of all trades who could catch, run, and block when called upon. He was also very trustworthy. I have to believe head coach Matt LaFleur will have a new plan for his offense that will showcase the talent of Dillon, but in a different way. Dillon is a pounder so it will be interesting to see what LaFleur comes up with.
Whatever LaFleur comes up with, there is a good chance it will work most of the time. Like I predicted when he was hired, all his offense needed was a good quarterback and it would be successful. So grab this bet365 registration code and take advantage of what could be a magical year.
Receiver room has everything
The return of wide receiver Randall Cobb should keep Rodgers happy for at least this season. Cobb adds some value as another reliable option and a tutor to rookie Amari Rodgers, who the Packers drafted to play the slot position, and has a world of talent. And as I've said before, I think this is the year Marquez Valdes-Scantling breaks out once and for all.
The Packers are very strong at tight end all of a sudden. After struggling for years to find a decent long term answer at the position they have finally struck gold in Robert Tonyan. Tonyan was easily the biggest Pro Bowl snub last year after hauling in 11 touchdown passes. Tonyan is also a Rodgers favorite so now he has three guys he can trust. It's not just Davante Adams anymore.
Barring injury, this offense is going to be well balanced and very hard to defend. For sure a top five unit, if not the best in the league.