The NFL's preseason is hopefully on its last legs. The football is unwatchable and forcing season ticket holders to buy the tickets should be a criminal offense. The league should just ditch it altogether and just have teams conduct joint practices like the Packers and Jets did this week. Even assistant GM/quarterback Aaron Rodgers has come around to the idea of practicing with another team.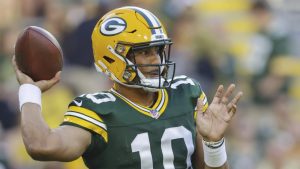 For the Packers we at least had Jordan Love to watch. Not anymore. The heir apparent to Rodgers couldn't even get through one meaningless game without getting hurt. That doesn't bode well for a long career in the NFL. The Packers might want to rethink extending Rodgers for another five years. A huge red flag just went up for me regarding Love. Can't make the club in the tub. What a horrible game it's going to be Saturday against the Jets without Love and Rodgers.
A little game of solitaire will be much more exciting. Start playing right now online. For more information click here.
I'll probably still watch the Kurt Benkert/Jake Dolegala show anyway. Got nothing better to do. Hopefully the offensive line can play a little better. Looks like there will be a new starter at right guard. Rookie Royce Newman seems to have taken over at that position this week. Even Rodgers called out the o-line this week by saying improvement is needed and there are jobs still to be won there.
One guy we won't have to kick around anymore is Josh Jackson. The Packers sent him to the Giants for Isaac Yiadom, another bust of sorts. He was a third round pick of the Broncos in 2018 is already on his third team. Guessing he is just training camp fodder. I'll be paying attention to Eric Stokes a little more this week. He has had his up and downs but his talent is clear to everyone. I can't see Kevin King ever getting his job back.
I hope Love can play next weekend against the Bills. At least then there is something to be excited about.