Things have really quieted down at 1265 Lombardi Ave. since the drama of the offseason and shocking opening day loss. Two straight impressive wins go a long way. All of sudden everything is rosy for the Green Bay Packers. Now they just have to keep from getting overconfident again and go about winning the division and home field advantage again.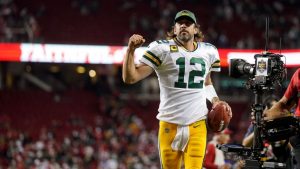 A couple things crossed my feeble mind this week. One was I can't believe that Aaron Rodgers gets so upset by social media and/or main stream media and what they say about him. This week he said it was a "rough one" for those people who were saying he didn't care about winning anymore. I don't get why he would give a shit about that stuff. Does he need it to motivate himself at this stage in his career? No one took more criticism than Brett Favre with all his interceptions. Not once did I hear him complain about what people said. Just odd if you ask me.
The Packers are a popular team to bet on. Not only in the U.S. but around the world. Check out online casino reviews Canada to find the place to place your bet. Plenty of bonus or special plays available to get you started.
Offensive line shines
Matt LaFleur raised a lot of eyebrows when he fired offensive line coach James Campen to hire Adam Stenavich. The Marshfield native has done a fantastic job with the Packers' offensive line since taking over. After six years of collage coaching Stenavich joined the San Francisco 49ers in 2017 as an assistant offensive line coach. Maybe he was recommended by LaFleur's former buddy Kyle Shanahan, but whatever the case, it was a great hire.
The Packers' offensive line is the sole reason they were able to beat the 49ers Sunday night. If not for them Rodgers couldn't do what he did. Stenavich plugged in Yosh Nijman at left tackle to face one of the league's best pass rushers. No problem. For once they didn't have to rearrange the whole line to cover one injury. Yes, the game plan helped a ton, too, but the Packers offensive is still a strength. I think Stenovich will be an offensive coordinator some day.
Packers-Steelers
I won't be around this weekend to make my much anticipated prediction. So I will do it now. The Packers face the Steelers and oddly enough this is Rodgers first start against them since beating the Steelers in the Super Bowl. He missed the last two meetings with a broken collarbone.
I don't know what to expect in this one. The Steelers won at Buffalo and then lost at home to the Raiders and Bengals. Which team shows up? I think this could be a hard fought battle. I'll say Packers 24, Steelers 19.