Another reason to hate the 17-game season is we can't break up the season in quarters anymore. This should have been my first quarter report. Not the 4.25 report. Oh well, it is what it is. The Packers are 3-1 after four games. They have been 3-1 or 4-0 in all three of head coach Matt LaFleur's three seasons.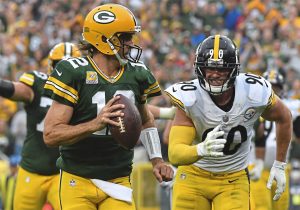 The Packers have gotten to that mark in three different ways. In 2019 they eked out wins over the Bears, Vikings and Broncos before falling to the Eagles in week four. And last year they stormed out of the gate. They scored over 40 points their first two games and over 30 the next two to reach 4-0. This year, they got blown out in their first game and I think steadily improved in winning the next three games. And they did so battling injuries, something they didn't have in 2019 and 2020.
Looking to make a few bucks on Packers' games? Quatro Casino is a good place to start. Established in 2009 it is widely regarded as one of the leaders in the online gambling industry. The Packers may be flying under the radar a little, making it a good time to jump in.
Not good enough
Tom Silverstein thinks the Packers could easily be 1-3 the way they are playing. I find that to be a stretch. He thinks the Packers beat three cupcakes to get to 3-1. I agree the Lions are a cupcake, but winning in San Francisco is not an easy task. He says the 49ers were injured and because they lost to their rival Seahawks on Sunday it proves they aren't any good. Well, the Packers were without their best offensive lineman, their second best offensive lineman and their best pass rusher. That's a wash.
Then he claims the refs errored in calling offsides on the Steelers when they blocked a field goal and returned it for a touchdown. That's a lie. But the refs did error when they didn't call tripping on T.J. Watt on Aaron Rodgers. That took a touchdown off the board. Yes, Big Ben did miss two long passes. So did Aaron Rodgers.
The Packers were again without their top two offensive lineman. And when Jaire Alexander went down they were without their top two defensive players. Getting to 3-1 is a minor miracle.
The Packers are likely to lose more than three games this year because their second half schedule is brutal. This team just needs to be peaking in January. Nothing to be concerned about. Yet.