We are six games into the Aaron Rodgers/Davante Adams Last Dance and the Packers are 5-1 with a two game lead in the NFC North division. In the NFC they are tied with Dallas and Tampa Bay, one game behind the undefeated Arizona Cardinals.The Packers are not flashy but they are winning. Here's a look at the current state of the team.
At quarterback Aaron Rodgers has been solid following up his MVP season of 2020. He's ranked ninth in the league and has thrown for 1436 yards and 12 touchdowns. Until Sunday's "I still own you" moment his highlight was taking the Packers 42 yards in 37 seconds to beat the 49ers in San Francisco. He did the same thing in Cincinnati only to have Mason Crosby miss.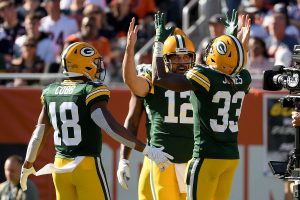 Rodgers has had to adjust to a different game plan this year due to injuries to the offensive line. The Packers have had to use tight end Robert Tonyan and both running backs to chip oncoming rushers, reducing their participation in the passing game. Tonyan only has 11 catches for 92 yards in six games. A far cry from his breakout a year ago. That could change when and or if, the offensive line returns to health.
The Packers are certainly betting favorites most weeks, but if you like to go to the casino for traditional games likes slots and blackjack, Neon Vegas Casinos is the place for you. Play against real-life players and dealers in the live casino. Just know when to say when.
The offensive line has been the weak link so far this year on offense. But amazingly, they have been able to overcome injuries to left tackle David Bakhtiari, his replacement, Elgton Jenkins. and center Josh Meyers. With a little help from his friends, left tackle Yosh Nijman has been serviceable. That allowed them to just replace one position instead of juggling the whole line.
Bakhtiari returned to practice today so he will be back within three weeks. Hopefully by then Meyers will be back as well. You would think their luck has to change at some point.
Running game carrying the load
Running backs Aaron Jones and A.J. Dillon have come on strong during the five game winning streak. Those two along with Adams have carried the offensive load all season. Jones and Dillon are the perfect compliment to each other. Speed and power and both can catch the ball. Being able to run the ball like they are now will be a must as the weather gets colder.
At receiver the Packers lost number two Marquez Valdes-Scantling to a hamstring injury and he has missed three games, going on four. MVS had only six catches in his three starts so he was not much of a factor. Rodgers did miss him a few times when he was wide open that would have made his numbers better. I'm not sure what we'll get out of MVS when he returns. I know Adams gets all the attention from Rodgers, but I thought MVS would provide a solid counterpunch for the offense. It hasn't turned out that way. It's Adams and a number two by committee.
On defense the Packers have also been hit by injuries. Their top pass rusher only played one game and their best cornerback, Jaire Alexander is out indefinitely. Somehow, after getting completely manhandled the first six quarters of the year, the defense has been at least average. They are ninth in yards and 15th in scoring so far. Since they gave up 38 to the Saints in the first game they have held opponents to an average of 19.6 points per game.
It does not feel like the defense is championship-worthy, though. How they are winning games is beyond me. The best offense the Packers have faced so far is the 19th ranked Bengals. This week they get the 22nd ranked Football Team. Following that game is the Cardinals and Chiefs, two top ten offenses. We'll find out what the defense is made of in those two games.
Can't overlook Washington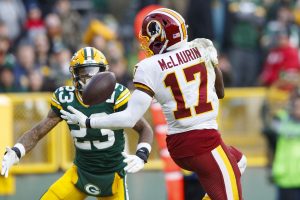 Beating Washington is up first. The Packers need to get to 6-1 because they are likely not beating Arizona or Kansas City. Washington has given up the most points in the league so far, which means the Packers will probably struggle mightily. Guessing we'll see another close one. Packers 28, Football Team 24.