Tomorrow on Thursday Night Football the Green Bay Packers will be facing its biggest adversity in the short Matt LaFleur era. They head to Arizona to face the undefeated Cardinals without their second best player in Davante Adams, as well as fellow receivers Allen Lazard and Marquez Valdes-Scantling. Bad enough to be facing the NFL's best team on the road on a short week, even worst to not have your top three receivers.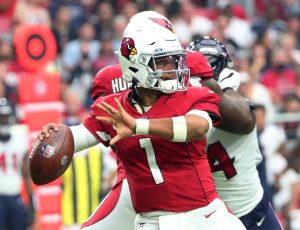 You already know the long list of other guys who will be out this week. Bakhtiari, Meyers, Smith and maybe another Smith, Alexander, King, etc. The list goes on and on it seems. The Packers are six-and-a-half point underdogs to the Cardinals after opening up minus-three. A trip to Illinoisgambler may find even longer odds of a Packers victory. Could the Packers pull the upset?
The Packers do still have Aaron Rodgers, running back Aaron Jones, tight ends Robert Tonyan and new found receiving weapon Marcedes Lewis. At receiver Randall Cobb will have to be the main guy and will probably garner the most attention from the Cardinals. If they take him out the Packers have complete unknowns in Equanimeous St. Brown, Malik Taylor Amari Rodgers and Juwann Winfree. Yikes! I have a hunch St. Brown might have a breakout game this week.
Tough task in the desert
The Cardinals have the fourth-ranked offense and tenth ranked defense. They are sixth against the pass and have 19 sacks, good for fourth in the league. They can be run on, ranking 21st against the run in yards and second to last in yards allowed per carry with 5.0. The Packers will need to take advantage of that with Jones and A.J. Dillon if they want any chance to win this game. After not being able to run the ball at against Washington I have to believe they will fired up to prove that was an anomaly and not a sign of things to come.
The Packers are 6-0 with Adams out the last two years, but this is a different beast. I just don't know how the Packers are going to stop the Cardinals. Quarterback Kyler Murray is playing like an MVP. And while Adams has 52 catches this year, the Packers only have one other player with over 20 balls and that is Jones. The Cardinals spread the ball around and have five players with 24 catches or more. This is going to be a difficult task for the Packers battered secondary.
Under LaFleur the Packers have responded in these situations. I have a hunch they do so again. The Vikings almost won there, as did the 49ers. I think the Packers shock the world with a Mason Crosby field goal at the buzzer. Packers 29, Cardinals 28.