The Green Bay Packers made quite a statement Thursday night in the desert. They not only knocked off the last unbeaten team in the NFL, they did it with one hand tied behind their back. Like Mike McCarthy used to say about his team, "we're nobody's underdog." That statement could not be more true as the Packers are now top dog in the NFC.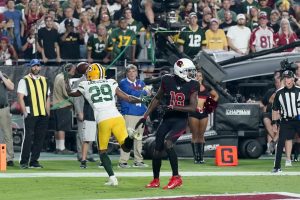 It was an even game statistically, the Packers out-gained the Cardinals by a yard. Where the Packers did dominate was time of possession. Like I predicted, the Packers were able to run the ball down Arizona's throat. The Packers held the ball for 15 more minutes than the Cardinals, keeping the league's fourth ranked offense on the bench. They did it by feeding the ball to Aaron Jones and A.J. Dillon to the tune of 137 yards. My only complaint is why they can't they figure out how to run when they get inside the 10-yard line? They run it all the way down the field and then pass when they get inside the 10. This game should have been put away multiple times.
The Packers covered the spread against the Cardinals. They will probably be favorites in each remaining game this year. If you are online sports betting in Pennsylvania you can find many places to check the odds. Do your due diligence.
Defense rises to the occasion
In what was easily the best performance by the Packers' defense. They certainly contributed to the time of possession domination as much as the offense did, especially in the first half. The Packers forced three punts in the first half. Then, on the Cardinals first drive of the second half they got an interception. Was it a coincidence the defense's best performance came with Joe Barry not calling the plays? I wonder.
And then of course, there was the game ender by Rasul Douglas. Who would have thunk a guy that wasn't on the team a month ago would make the biggest play of the year so far? Douglas has been a welcome addition to the secondary. He's a veteran guy who was called upon last week and made some plays and showed up again tonight. Of course, I won't talk about the 23-yard completion he allowed to A.J. Green with the Cardinals facing third-and-ten from their own one on the last drive.
I sure love the mini-bye week coming off a win. Especially when you have the best record in the NFC. Go Saints!