The Green Bay Packers once again put on display the league's worst special teams unit and thanks to them the Packers lost 13-7 to the Kansas City Chiefs. In a game in which Jordan Love made his first NFL start he needed all the help he could get. Unfortunately, only the defense was there to help him out. Special teams and his head coach left him out to dry.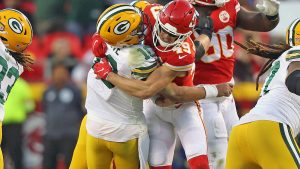 This was yet another case of LaFleur being widely out-coached by a long time veteran coach. This time it was Andy Reid and Steve Spagnuolo, the Chiefs head coach and defensive coordinator, respectively. How LaFleur didn't have a plan early in the game to combat the all-out blitz is mind-blowing. It was clear the Packers' young offensive line was no match for the pressure the Chiefs were bringing. Whatever happened to the quick slant route? Or maybe a well executed screen pass would slow them down a little. Love took a beating but somehow hung in there and threw a touchdown pass in the fourth quarter to pull the Packers within striking distance.
Special teams continue to suck
The difference in this game was the Chiefs made their two fields goals and the Packers didn't. In what has become the longest running broken record in history, the Packers special teams continue to stink up the team and the league. It was special teams that doomed former coach Mike McCarthy and it will be special teams that doom LaFleur if this keeps up. I knew the very second Maurice Drayton was promoted to special teams coordinator there would be no change. I didn't think they could get worse, though, so kudos to him for that.
Two missed field goals, a muffed punt, a punt that should have been caught hits a Packer and is recovered by the Chiefs. Throw in shanked punts, short kickoff returns, poor return coverage and its a recipe for disaster. I don't know this team can go anywhere with this unit playing like this.
Overall the game didn't hurt the Packers much. It won't mean anything in the tiebreakers if it comes to that. And Love didn't blow anybody away so there won't be any QB controversy this year anyway. If you were listening to Troy Aikman the Packers should probably just cut Love right now because he is so bad. Ross Tucker said the Packers taking Love set the franchise back 20 years. Yes people, these idiots walk among us.
Aaron Rodgers will be back next week to face the Seahawks, so we probably won't see Love again this year. It's possible he could start the last game of the season if the Packers playoff position is locked in by then.. I hope that happens.
On to Seattle.