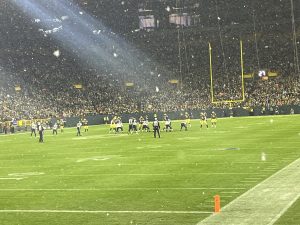 The Green Bay Packers improved to 8-2 and once again sit atop the NFC after shutting out the Seahawks 17-zip yesterday. Win out and they get the coveted bye in the playoffs. Of course that will be a tall task, but with the Packers new and improved defense, anything is possible. One would think quarterback Aaron Rodgers and the Packers offense will pull out of their funk at some point. When they do this will be a very hard team to beat.
Yesterday against Seattle the Packers' defense played their best game game of the year. They are on a roll. The defense has not given up a point in its last six quarters and haven't given up a touchdown its last seven quarters. What universe are we living in?
The problem is the Packers keep losing key players to injury. I simply can't understand how they can still be playing like this with guys getting hurt seemingly every week. Losing Whitney Mercilus yesterday for the season was a crushing blow. He was adding the additional pass rush the Packers so desperately needed with Za'Darius Smith still out. Then Rashon Gary goes down with an elbow injury too gruesome to show to TV. Unreal. Throw in Aaron Jones going down with a knee injury and it was costly victory to say the least.
At least the Jones injury isn't serious, but I don't expect to see him until after the bye week. Gary says he'll be back but I'll have to see it to believe it. Wouldn't surprise me if he was out until after the bye as well.
It is time for the offense to get their shit together. David Bakhtiari should be back soon and yesterday Rodgers had all three wide receivers for the first time in weeks. Rodgers was clearly rusty in the game and didn't deny it afterwards. He did just enough to win. Not going to get away with that next week in Minnesota. But we'll worry about that later.