The Green Bay Packers lost their third game of the year against their arch rival on the last play of the game. Normally that wouldn't be cause for alarm. But this time it has a different feeling. Considering all the injuries the Packers have endured this year, the loss to the Vikings feels like the final blow. Down goes Frazier!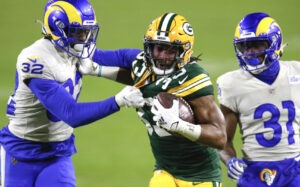 Not only did the Packers lose all-world offensive lineman Elgton Jenkins, they found out their MVP quarterback has a fractured toe and didn't practice once this week. We all know the long list of players the Packers have lost. And while like Aaron Jones and Rashan Gary may be back this week, neither will be 100%. Now the Packers face an angry Rams team who has lost two straight games and had a bye week to stew about it. It's a huge game as far as playoff seeding is concerned. Nobody wants to fall farther behind the Cardinals, especially the Rams, since they are in the same division.
It's still early but the playoff pictures is taking shape. Might be time to visit an online casino. If so, find an online guide to help you find the right site, like at CNOG. With so many options you want to make sure you find the right one.
Stafford still Stafford
The one thing the Packers have going for them is the Rams have Matthew Stafford at quarterback. While he is better than Jarod Goff, who the Packers faced in the playoffs last January, it's not exactly a huge improvement. You can take Stafford off the Lions but you can't take the Lions out of Stafford. Just look at some of the interceptions he has thrown his last two games. He looked just like the Stafford of old.
If the Packers' pass rush can get to Stafford the Packers will have a chance for an interception or two. The Rams don't have the running game the Vikings do so maybe the Packers will have a little more success getting to the passer this week.
I'm more worried about the Rams pass rush getting to Aaron Rodgers. I'm not so sure the Packers can stop the Rams from getting home. I also don't have a lot of faith in head coach Matt LaFleur and his ability to adjust on the fly if that rush is getting home. I got a hunch that happens again here. The Packers' defense plays well but the offense doesn't. Rams 20, Packers 17.