Nope, I did not see that coming. And apparently neither did betting America, which installed the Packers as two-point underdogs in their own stadium. The Packers jumped on the Rams early, got a pick-six off of Matthew Stafford in the third quarter, and held on for a 36-28 victory.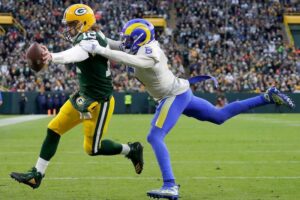 I was expecting a defensive battle as the Packers limped into the bye. They apparently said f-that! The Packers moved the ball at will for most of the game, rolling up 399 yards of offense and doubling the Rams in time of possession. Only two long TD passes by the Rams kept this game close. Rasul Douglass had another good game with his interception return for a touchdown, but he also was the one who got burned by OBJ for a long touchdown that kept the Rams hopes alive in the fourth quarter.
The Packers are 9-3 and remain a game behind the Arizona Cardinals in the NFC and a half-game ahead of Tampa Bay. As today's line showed, you can still get good odds on the Packers. Try www.novibet.ie/sports and see what you can get. Might not like what you see at first but things change rapidly in this league so keep checking.
Almost an all around win
The Packers defense, so god at not giving up big plays prior to last week has now been gashed two weeks in a row. Outside of those two plays, they were excellent. It's clear the Packers need Jaire Alexander back if they are to.make a deep playoff run. And there is no guarantee that happens. Douglass has been an excellent find and rookie Eric Stokes is getting better, but they miss that lock down corner who doesn't need any help.
On offense Aaron Rodgers played great once again despite not practicing much or at all during the week. It did appear Rogers was limping a little in the second half but for the most part it didn't appear the toe injury hinders him. It certainly didn't when he juked out Jalen Ramsey on a one-yard touchdown run to open the scoring. I've been calling for that naked bootleg for years and we finally got it. It worked even though Rodgers had to earn it.
Wide receivers Davante Adams and Randall Cobb had huge plays as the passing offense seemed to have some rhythm for the second straight week. And then with the game on the line running back A.J. Dillon bull-dozed the Rams to run out the clock.
Of course, as has been the case all year, it wasn't an all around win as Mason Crosby doinked another field goal. Dude just can't get through a game clean. He did actually look a little better this game, making three other field goals.
Nothing better than a big win going into the bye. Maybe the Lions can do the Packers a favor and beat the Vikings next week. I know, but one can hope.