While the Green Bay Packers were enjoying their bye week they weren't getting help in garnering the NFC's No. 1 seed in the playoffs. The Cardinals beat up on the Bears in Chicago and Tampa Bay beat Atlanta. The Packers remain at number two for now.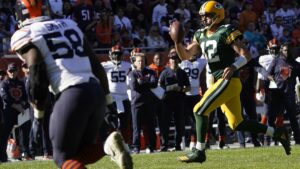 If the Packers had beaten the Vikings last week they would be division champs today. Minnesota become the first team to lose to the Lions this year. It makes you wonder how much longer Mike Zimmer will be the Vikings head coach. The way it's going all three of the Packers NFC north brethren may be looking for a new coach in the offseason. The Bears' Matt Nagy is gone for sure. And how can you keep a guy who goes 1-15-1 potentially? Could be an interesting offseason for the division.
There are still five games left and the way this season is going anything can happen and probably will. Even with a ton of injuries the Packers are still one of the betting favorites to win the Super Bowl. There are many places to bet on the Packers but its good have a guide to help you make clever bets. Opportunities are out there, just have to find them.
Home Cooking
The Packers play three-out-of-five games at home starting Sunday night against the Bears in Lambeau. The only team they play with a winning record is the Baltimore Ravens. And that is the only game in which they are not favored to win. Baltimore is a hard team to figure out. They play like shit but somehow are 8-4. I can easily see the Packers winning that game.
Head coach Matt LaFleur said today the team may be getting David Bakhtiari, Za'Darius Smith and Jaire Alexander back at practice this week. Getting any one of those back on the field in the remaining weeks would be awesome. Getting all three back would be a game changer.
It's back to football today and it's Bear Week. Sunday Night Football no less. Go Pack!