The Green Bay Packers defeated the Chicago Bears last night in a wild game that saw the two teams combine for 45 points in the second quarter. While the Packers came out on top 45-30 they were exposed as a team with one huge weakness. A weakness that will likely result in yet another playoff disappointment for Aaron Rodgers in what may be his final year in Green Bay. We all saw it. The Packers special teams are a complete joke. Worse than they have ever been, and that is saying a lot considering how bad they were last year. Or the year before. Or the year before that. And so on.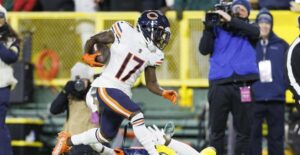 The special teams basically gift wrapped 27 points to the Bears in the first half. It was simply one bone-headed move after another for Maurice Drayton's much-maligned unit. They muffed a kickoff. They kicked off out of bounds. Then allowed a 42-yard kickoff return with 44 seconds left in the first half, setting up a Bears' field goal. Oh, and of course, they allowed a 97-yard punt return for a touchdown! In the first half he Bears had 213 return yards. That is nearly half of what the Packers had for the entire season (433). It was an embarrassment.
I wonder how many bettors factor in special teams when looking at a game? You definitely should if you want the best NFL odds to make your wager. One bad special teams play could break your heart, so be careful with the Packers, even though they have been money against the spread this year. In their last ten games the Packers are 9-1 against the spread, the only loss coming at Minnesota November 21. That could continue as the Packers should be favored in their last four games.
Change forthcoming?
Head coach Matt LaFleur said after the game he wouldn't be firing Drayton anytime soon. So there really isn't any reason to think there will be any improvement for a unit that has gotten worse as the year has worn on. LaFleur did say today he might have to start using starters on special teams to try and fix some of the problems. Great. Like the Packers don't have enough injuries. This is not rocket science. When the ball is kicked, run down the field and tackle the ball carrier. Anybody with a lonely half brain should be able to understand that.
For the first time in weeks Mason Crosby didn't miss a field goal or extra point attempt. But he made up for it with a kickoff out of bounds after Rasul Douglass picked-six Justin Fields to give the Packers the lead at 14-10. Three plays later the Bears led 17-10. It was a first half from hell. And the second half wasn't much better. They added a muffed punt (that didn't count) and gave up an onside kick. Mind-blowing mistakes that show no signs of relenting.
Against a good football team the Packers would have been beaten soundly. The Bears are one of the worst teams in the league and their defense is a shell of its former self due mostly to injuries. Rodgers was able to pick them apart and once the Packers took the lead a second time it was pretty much game over.
Rodgers was masterful once again against his favorite rival. He had only eight incompletions and threw for 341 yards and four touchdowns. All of this without being able to follow through on his throws due to his broken toe, which he said was worse after the game. He didn't unleash any bombs but he didn't dink and dunk all day either. Rodgers has played his best football of the year since returning from covid quarantine with a broken toe. I kind of hope it doesn't get any better (insert emoji here).
Defense finished strong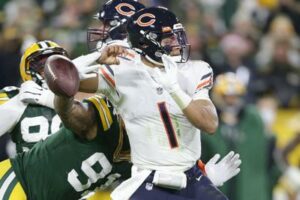 The Packers' defense struggled a little in the first half, which also contributed to the Bears scoring explosion. Two big plays, a shuttle pass to Jakeem Grant for a 46-yard touchdown and a 54-yard catch and run to Damiere Byrd for another. But a halftime speech by linebacker Preston Smith sparked the Packers' defense in the second half according to teammates. Smith went out and put his money where is mouth is with a strip sack on the Bears' first possession of the second half. Rodgers hit Aaron Jones for a TD on the next play. Smith added another sack in the final minutes.
The defense bears the brunt of a lot of the special teams woes as they are the ones defending a short field. They are always starting with their backs against the wall. This defense could be really good if it just got a little help from special teams.
The Packers now head to Baltimore to face the Ravens who may be without Lamar Jackson, who injured his ankle yesterday against the Browns. And speaking of the Browns, the Packers face them on Christmas Day in Lambeau. Both of those teams are in a dogfight for the AFC North title after the Browns win.
The Packers have four games to figure out how to mask their special teams woes. If LaFleur can coach his way out of this mess he may be Hall of Fame bound.