For the Green Bay Packers, it was like Christmas came early today in Baltimore. Two questionable coaching calls by Ravens' coach John Harbaugh handed the Packers a 31-30 win on a decorative holiday platter. The win makes the Packers NFC North division champions for the third straight year and still holders of the No. 1 seed in the NFC.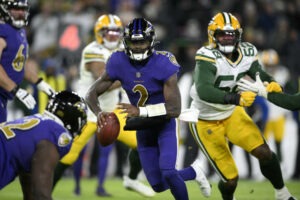 As the final score indicates, it was no walk in the park. The Packers were out-gained by the Ravens, who started backup quarterback Tyler Huntley. All Huntley did was throw for 215 yards and two touchdowns and rush for two more, both in the fourth quarter. Throw in the usual special teams gaffes and you have a close game no matter how well Aaron Rodgers plays.
And Rodgers did play well. In fact, Rodgers may now be the favorite to win the MVP. A check of FanDuel Sportsbook might find the Packers as Super Bowl favorites as well. But as well as Rodgers played he twice could have put the game away and failed to do so. After Harbaugh's first boneheaded call, to go for it from his own 29-yard line failed, Rodgers burned two timeouts and couldn't get it in after a first and goal from the six. Then after the Ravens cut the Packers lead to seven the Packers couldn't even get one first down to run down the clock.
Fortunately the Packers won't face a quarterback like Huntley the rest of the regular season. The Packers pass rush was so close so many times but Huntley was able to get away. And on the two rushing touchdowns to tie the game he was untouched. The Packers had no answer for him.
The Packers' defense clearly missed Kenny Clark. But they are looking weaker by the week. Clark should be back next week, but they need Jaire Alexander back in a big way. They need their shutdown corner so they can send some resources elsewhere. Like covering Mark Andrews, for example.
A win is a win. Gifted or not. I'll take it.