The Green Bay Packers are three wins away from securing the number one seed in the playoffs. All three of their opponents are subpar teams and two of those games are at home, starting tomorrow with the Cleveland Browns. I personally, am shocked the Packers have been able to reach this point. It was only a few weeks ago I thought they might be thinking about resting some starters after locking up a playoff spot. Not any more.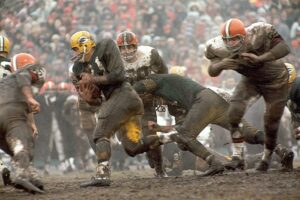 The Packers could really use the bye week that comes with the number one seed and have a one game lead over Dallas and Tampa Bay who are 10-4. The Rams and Cardinals are also 10-4 but the Packers hold the tiebreaker over them having already defeated both teams. The Packers are anywhere from a seven to nine point favorite to beat the Browns tomorrow and will certainly be favored over the Vikings and Lions to close the season. The Packers are the best in the league against the spread so check out www.helpbet.com and jump on the bandwagon. Just don't be the cooler.
Old time rival
The Packers have not lost to the Browns since 2005, when Trent Dilfer carved up the Packers to the tune of 336 yards and three TDs in a 26-24 loss in Cleveland. The Packers lead the all-time series 13-7. There were many epic battles in the 1960s, including the Packers 23-12 win in January of 1966 to win the NFL Championship in Lambeau Field. There is a lot of history between these teams in a series that began in 1953.
This game will be the 11-3 Packers against the 7-7 Browns. The Packers trying to lockdown the aforementioned number one seed and the Browns fighting for their playoff lives. The Packers will have all-world defensive lineman Kenny Clark back from the covid list but lost Marquez Valdes-Scantling to it. The Browns are getting quarterback Baker Mayfield and wide receiver Jarvis Landry back.
The Browns are a hard team to handicap. They do have the running game to hurt the Packers, which is why getting Clark back is huge. And their defense can get after the quarterback if Myles Garrett and Jadeveon Clowney are on the field.  Guessing this one will go like most other games this year. The Packers will start slowly and then little by little take the game over. Packers 26, Browns 17.