The holiday season has been very nice to the Green Bay Packers. First Baker Mayfield gifts them four interceptions on Christmas Day and now the Packers get to face the Minnesota Vikings without quarterback Kirk Cousins. By now you all know Cousins tested positive for COVID this week. While we wish him the best, his loss certainly increases the Packers' chances of victory Sunday night.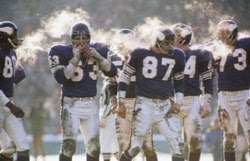 The Vikings are turning to veteran backup Sean Mannion for the prime time game. But the Vikings' offense revolves around running back Dalvin Cook. If the Packers can't stop him better than they did Nick Chubb last week it won't matter that Cousins is out. Because the Packers have struggled so mightily the last few weeks against the run I think this game will still be battle.
It is going to be a bitter cold night at Lambeau, with temperatures in the singe digits. That really favors no one anymore with today's apparel and sideline technology. And it's been colder in Minneapolis than it has been in Green Bay this week so the Vikings are used to it. So with the weather not a factor the Packers just need to take care of business. Maybe this week they finally finish off an opponent. I'll say Packers 30, Vikings 17.