The Green Bay Packers are the No. 1 seed in the National Football Conference for the second consecutive year. They have also won 13 games in a season for the third consecutive season, a first in NFL history. This is crazy stuff for third year head coach Matt LaFleur. The question is can he finally get his team to the Super Bowl?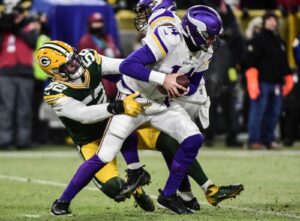 This wasn't much of a game without Kirk Cousins at quarterback for the Vikings. Even though they want to run him out of town in Minneapolis, he is a top quarterback talent in the NFL. With Cousins the Vikings offense has the talent to be explosive with running back Dalvin Cook and wide receiver Justin Jefferson. Take Cousins out and you get what we had here last night. A complete embarrassment.
While Jordan Love may or may not be a starter in the NFL someday, he looked a helluva lot better in his limited appearance than Sean Mannion did. I can't believe that is the best the Vikings had when they knew Cousins was unvaccinated and could miss a game on the drop of a dime. At least with Love the Packers have a chance. Hopefully another year or two on the bench will get him ready for action.
Starters going to start
Even with the number one seed locked up it appears the Packers will be playing their starters next week in Detroit. At least a little bit. It sounds like head coach Matt LaFleur is worried about rust if guys don't play for two weeks. I think it is smart to put them all through a regular practice routine this week just like they would in the first week. However, there is no reason they have to play the whole game. I would expect Aaron Rodgers and Davante Adams and Aaron Jones and a few others to only play the first quarter or half.
We didn't learn anything new from the Packers' defense because they only really had to stop Cook and it was game over for the Vikings. They did do that, however. With the lowly Lions next we won't know until the first playoff game if the Packers' defense is really back.
The way things are shaping up in the NFC it could very easily be the Dallas Cowboys coming to Green Bay in the divisional round. We'll worry about that later. I'm going to enjoy these next two weekends first.