The Green Bay Packers and Detroit Lions are playing for pride Sunday. The Packers want to keep the momentum going and grab their 14th win in the process. The Lions are just looking to finish the season strong and build on the improvement they've shown in the second half of the season. Blowout losses to Denver and Seattle notwithstanding.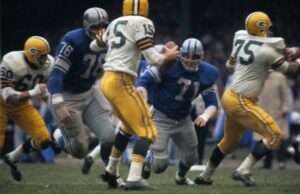 The Packers aren't likely to play their starters very long if at all. I've seen it before where they say all week everybody is playing but come game day nobody is playing. This still could be the Jordan Love show. Love will certainly play a lot whether he starts or not and like the Kansas City game, he will be the main attraction. Love looked OK in his brief stint against the Vikings last week and should be able to have some success against the Lions 28th ranked defense.
The Packers have been notoriously slow starters this season so that may play a factor into how long Rodgers and others play. If they for once go right down the field and score a touchdown that might be it for Aaron Rodgers, Davante Adams and some others.
While I see plenty of other pundits picking the Lions, I think the Packers' backups are still better than a 2-13-1 team. I'll say Packers 34, Lions 24.