The Green Bay Packers were likely to face a team from the NFC West this weekend, it was just a matter of who. Of the three possibilities, the San Francisco 49ers were probably their least preferred opponent. The 49ers and coach Kyle Shanahan own the Packers much like Matt LaFleur owns Sean McVay and the Los Angeles Rams. The Packers did beat the 49ers in week three this year, but that was a long time ago. The 49ers have been one of the best teams in football the last ten weeks.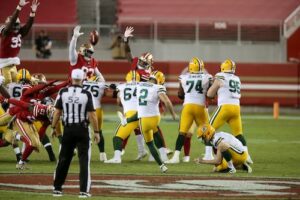 Obviously, the Packers have also been one of the best teams over that span. The big difference for me is the 49ers have a legitimate defense whereas the Packers' defense is still unproven. And the Packers' defense is going to be the difference in this game. The Packers are as much as six point favorites over the sixth seeded 49ers. I find that a little high, but the Packers are the number one seed and went undefeated at home this year. I'm sure you could find enough reasons to bet either way and there are plenty of websites out there if you are interested in some more gambling information.
Finally at Lambeau
This will be the first home game for the Packers against the 49ers under LaFleur. The previous four contests were all out west. The Packers have won the last two against the 49ers but last year's game doesn't really count because the 49ers were a shell of themselves due to injury. The week three win was a good one for the Packers, though. Even though the defense almost gave it away. Only a miracle 52-yard drive by Rodgers and Davante Adams saved the day.
The Packers went 4-0 against the NFC West and the way I see it they will have to go 6-0 to get to the Super Bowl. That would be amazing considering the playoff pain that division has exacted on the Packers over the years. I'm not sure which way I'm leaning yet. This game is a tossup to me. We'll see what the status of the 49ers injured players is later in the week.
I'll be back.