The Green Bay Packers' season came to a screeching halt in a very predictable manner. Special teams gaffes and quarterback Aaron Rodgers' inability to take over a playoff game when his team needed him the most. In what I think is likely to be Rodgers' last game in a Packers' uniform, he played nowhere near his regular season MVP level. He had many chances to put this game away and failed to do so. 10 points is not going t win a lot of playoff games.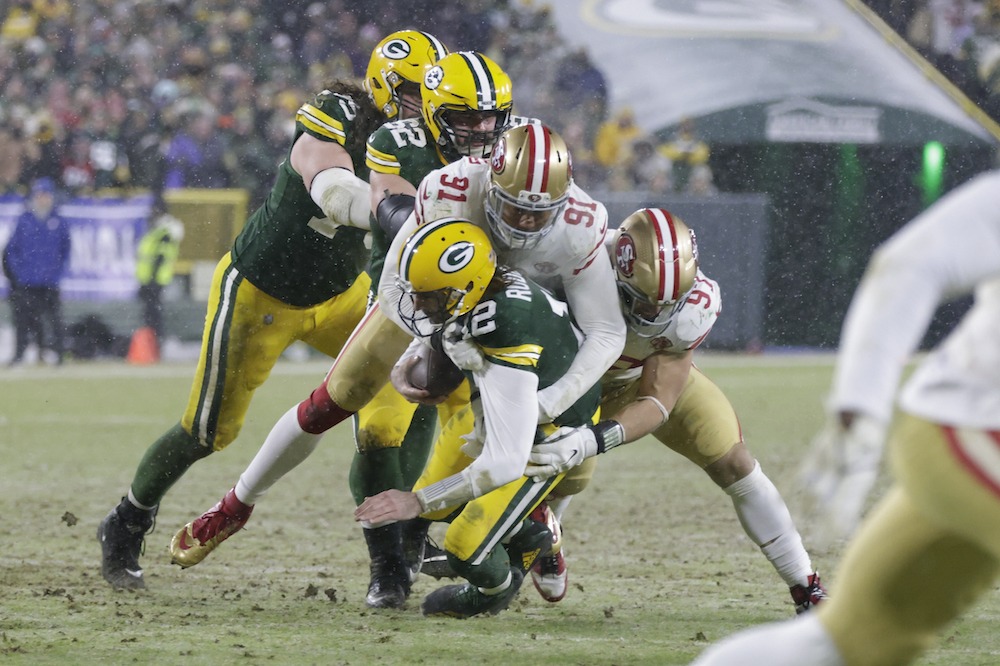 The Packers' defense had maybe their best game of the year until the 49ers last drive. They completely shut down the 49ers all game but when they needed a three and out to give Rodgers one more chance or send the game into overtime, they couldn't do it. The 49ers last play was worst. Everybody in the stadium knew the 49ers were going to run one play up the middle to set up the field goal. Yet the Packers gave up a ten yard run straight up the gut that made the field goal a chip shot for Robbie Gould. Inexcusable.
New low for special teams
And speaking of inexcusable, the Packers' special teams hit a new low. One I didn't even think was possible. I didn't even mention them in my pregame writeup. I thought maybe they had at least stabilized things a little the last few weeks. Nope. This was a failure of epic proportions. A complete embarrassment for special teams coordinator Maurice Drayton. I mean, how do you not just resign immediately following that debacle?
Drayton took over a unit that ranked 29th in the league last year and promptly tuned them into the 32nd worst unit. What did head coach Matt Lafleur expect when he hired the assistant to that 29th ranked unit to be his new coordinator? It's like washing your hands in muddy water. For a guy who has done a lot of good in three years here, that move was clearly Lafleur's worst. And now it directly cost the Packers a playoff game and most likely ended the Aaron Rodgers era. Wow!
Might not be Rodgers' decision
Rodgers said he will talk with the team in the coming days and then take some time to decide what he wants to do. It might not be his decision, however. General manager Brian Gutekunst might decide that the team would be better off without Rodgers and his enormous salary. The Packers aren't winning anything with him so why not begin the Jordan Love era now? May take a year or two to get back to the playoffs, but it may not either. The team isn't exactly devoid of talent. Yes, some players will have to be renegotiated or let go, but the way the Packers overcame injuries this year proved they have some depth on the roster.
I'm still a believer in Lafleur and I think he can take a Love led team to the playoffs. But he is going to have to toughen up a little as grows into an NFL head coach. You can't make stupid decisions like he did with Drayton and expect to stick around very long.
We'll see what happens in the coming weeks but I fully expect Rodgers to either retire or come to a mutual agreement to trade him to an AFC city of his choosing. It's just time.