The Green Bay Packers stunning loss to the San Francisco 49ers last Saturday looked eerily familiar to my eyes. The game essentially ended when an aging quarterback tried to force a ball to his favorite receiver while another was wide open in the middle of the field. In Brett Favre's case he threw an interception that setup up the game winning field goal in NFC Championship his last year in Green Bay. Saturday Aaron Rodgers had Allen Lazard wide open at midfield but instead launched a Hail Mary to Davante Adams that fell harmlessly to the ground. The 49ers then kicked the game winning field goal.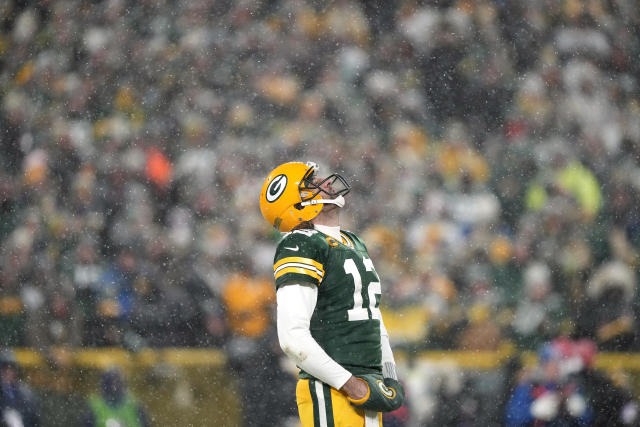 In both of those cases it was clearly evident that the same drive and determination was gone. Yes, Favre did go on to have one more good season once he joined the Vikings, but his other two seasons were forgettable. I think Rodgers would be wise to just say the hell with it and retire while he is once again in good standing with the franchise and it's fan base. Yes, head coach Matt Lafleur said he and the rest of the braintrust do indeed want Rodgers back, but you have to wonder how sincere that really is.
Probably not going to the Super Bowl again
It has now been 11 years since the Packers won a Super Bowl and 11 years since Rodgers played great in the playoffs. For whatever reason, he has not been able to repeat the success of that magical playoff run as the NFC's sixth seed. It's hard to figure out why it hasn't happened again and you can't just go to a web site for answers like you can for help with college physics. I think it is the pressure Rodgers has put on himself that makes him play scared to make a mistake instead of winging it. At least Brett went down firing.
Yes, there is plenty of blame to go around in all of Rodger's playoff losses, most notable on defense and special teams. But last Saturday was the final straw for me. And that was confirmed Sunday night watching Josh Allen and Patrick Mahomes light it up against each other. Mahomes only needed 13 seconds to get in field goal range against the NFL's number one scoring defense. When Rodgers had a chance to lead his team to victory he went three-and-out. And it was ugly three-and-out. I just don't see anything changing next year.
Love ready?
Yeah, Jordan Love may not be ready for prime time but until he plays regularly nobody will know. Would another year behind Rodgers help him? Probably. Would a whole training camp of being the number one guy help him? You betcha. What have you got to lose? Odds are you aren't winning anything with Rodgers so why not get a head start on the future and save some dough in the process.
I can't really see Rodgers asking for a trade. This is really about does Rodgers want to play or not. And if he does can the team make Adams happy even though he might get the franchise tag? I won't be upset either way, but I wouldn't mind changing gears. That KC-Buffalo game really highlighted the difference between the old guard and the new guard. I want some of that.