The Green Bay Packers will get below the NFL's salary cap by March 16 one way or the other. Currently they sit about $45 million over the cap according to spotrac. When Aaron Rodgers signs his new deal that should shave off a large chunk of that, but the bottom line is there are some key pieces of the puzzle who will not be back with the team this year.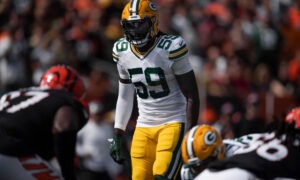 With Davante Adams receiving the non-exclusive franchise tag the biggest piece left is inside linebacker De'Vondre Campbell. The Packers are reportedly making a strong push to keep Campbell but don't have the resources to avoid letting him test the market. Campbell was a huge part of the Packers' defensive turnaround last year was a first team All-Pro. It is possible some team will be willing to pay a pretty penny for him and the Packers won't be able to match it. It is also possible he doesn't get the interest he expects and the Packers can remain in play for his services. Maybe they think he is a one-year wonder.
Campbell is probably the only other player besides Rodgers and Adams who affect how a person bets for the NFL. With Campbell the Packers are probably a top ten defense again in 2022. He would be hard to replace and would certainly affect their odds to win the Super Bowl.
Time to add weapons
Another player the Packers are likely to lose is wide receiver Marquez Valdes-Scantling. I was hoping they could get him back on the cheap but his deep threat potential may make him attractive to other teams. While he never was able to stay healthy and develop into a consistent playmaker, the Packers were better when he was on the field. Not having him against the 49ers in the playoffs was huge.
A couple of years ago I was adamant the Packers didn't need another receiver as bad as the national media said they did. Now I'm beginning to think I was wrong. MVS couldn't stay on the field and Allen Lazard is Allen Lazard. I have to believe if OBJ was on the roster the Packers don't lose to the 49ers despite Rodgers' poor play. Somehow general manager Brian Gutekunst has to upgrade the receiver position and give Rodgers the weapons he needs to get over the hump.
It's tough when you go all in with the cap but don't get a Super Bowl win out of it. We'll find out what Gutekunst is made of over the next few months.