The Green Bay Packers were able to get close to the NFL's salary cap with only a couple of surprises. One major one and one minor one I think. Of course, keeping linebacker De'Vondre Campbell was a major surprise. It was seemingly a given he was going to test the waters in free agency. Keeping Campbell means the Packers aren't starting over on defense again as the rest of the key cogs will likely remain in place.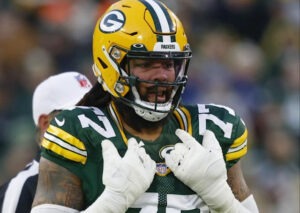 The minor surprise was the team cutting right tackle Billy Turner. Just last January the Packers thought enough of Turner to start him at left tackle in a playoff game. This despite the fact that Yosh Nijman had earned the start by his improved play during the season. Maybe the pitiful performance turned in by Turner in that game opened some eyes in the front office. If he's no longer versatile enough to play on the left side he is of no value to the team.
While betting on the NFL is now welcomed by the league and there are many online sites where you can place bets. However, if you like to play slots there are many sites for that, too. Click here to find some top casinos with real money slots.
Still some work to be done
The Packers got the biggest piece of the puzzle done today when they officially inked Aaron Rodgers to a contract extension. The deal makes Rodgers the highest paid player in the league, which, of course, he said he didn't want. It's a tricky deal because of Rodgers' age and the astronomical dead cap hit the Packers will have to pay if Rodgers doesn't play out the deal. And it's highly unlikely to me that Rodgers plays more than two more years. I think he's only in it for the money now, he looked checked out in that playoff loss and it took him two months to decide whether to even play or not this year.
With Rodgers locked up the Packers need to figure out who he will be throwing to. The Packers used a second-round tender on Allen Lazard so he will be back. But the futures of Randall Cobb, Marcedes Lewis, Marquez Valdes-Scantling are still very much up in the air. Same for tight end Robert Tonyan. The team needs an overhaul here, I just don't know how they do it. I would try to get Jarvis Landry, for one.
Other than receiver I think the Packers just need to build some depth with guys that can also play special teams. General manager Brian Gutekunst is just getting started.