The Green Bay Packers shocked the NFL yesterday when they traded Davante Adams to the Las Vegas Raiders. But in hindsight, we all should have seen this coming. Pretty much the minute Adams and the Packers broke off negotiations before last season it was clear he wanted out. And in the end, even though the money was the same or more, he got what he wanted.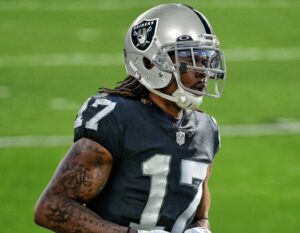 Who knows what the real reason Adams didn't want to play for the Packers. On The Jim Rome Show today Rome said the Packers don't treat their stars well enough. This after the Packers just made Aaron Rodgers the highest paid player in NFL history. A year after making their left tackle the top paid player in the league. To blame the Packers in this situation is ludicrous. The Packers should be praised for doing a favor for one of their best players. Shows they care about their players like they say they do.
Rodgers was aware
The other side of the story is maybe Aaron Rodgers wanted him gone. Or at least isn't upset about it. I mean how must he feel. He made Adams what he is and now he's left at the alter. Adams owes every penny in his bank account to Aaron Rodgers, and now he's not even playing with him. I'd be pissed.
Not even knowing who the Packers' receivers will be other than Allen Lazard and Randall Cobb I think Rodgers will be even better now. He won't have to feed the beast that was Adams. Now he can hit the open man and not have to worry about get bitched at in the huddle.
Davante is a good dude and he has his reasons for wanting to leave. I'm guessing in his first press conference he will be very appreciative of the Packers for allowing him to play with his best friend. I think it is a good deal for both sides. Adams gets to finish his career with his best friend. The Packers get some ammunition to keep the team's Super Bowl window open a few more years.