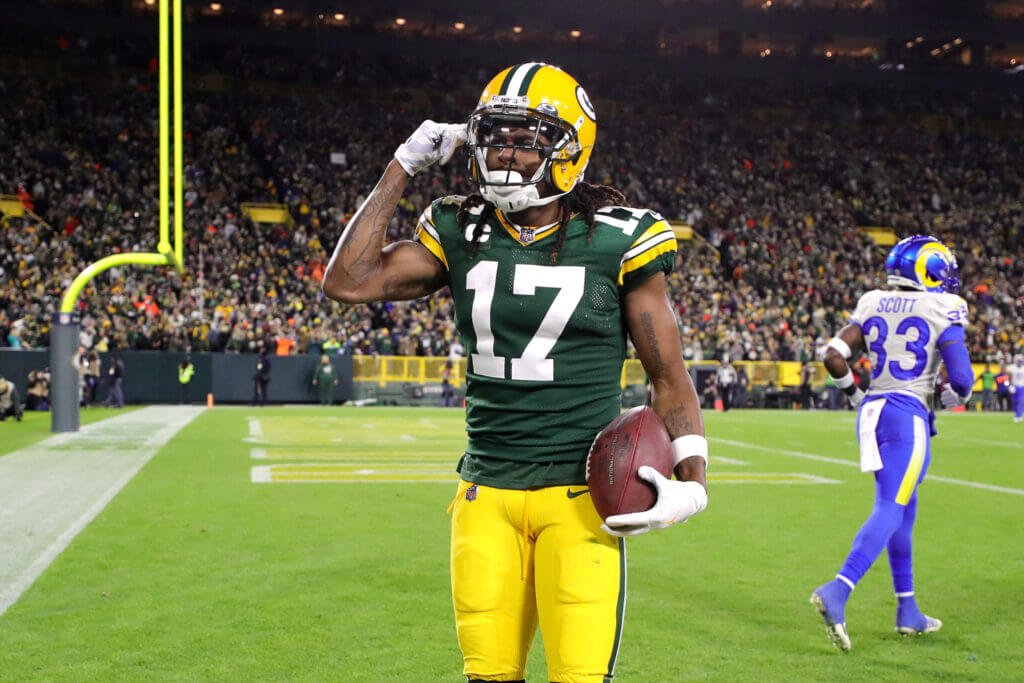 Green Bay Packers head coach Matt LaFleur has pointed out the team needs to add several more pieces to the receiver position. The Packers had a very encouraging regular season this year but fell disappointingly short during the playoffs and will have to reload for next term
Fortunately, they were able to retain the services of star quarterback Aaron Rodgers. 
On the flip side, they have lost wide receiver Davante Adams, with the 29-year-old heading to the Vegas Raiders via trade this offseason.
The Packers won't be playing meaningful games for the next few months but the coach is fully aware that there are positions that need addressing sooner rather than later.
Speaking to the NFL Network's Tom Pelissero this week, LaFleur claimed the Packers will "absolutely have to add some pieces to that room" over the next few months.
"Certainly there's going to be opportunity, we're still in free agency and then we've got the Draft," he added. "In my experience, there's a lot of movement that can take place between now and the start of the season."
The Packers have also lost Marquez Valdes-Scantling, leaving them with pretty big boots to fill. The aforementioned receivers were responsible for 149 catches, 1,983 receiving yards and 14 touchdowns between them. The players caught 24 of the 48 TD passes Rodgers threw in 2020.
"You can't look back and you gotta move forward," LaFleur offered.
What's Left?
The Packers' top two receivers are Allen Lazard and Randall Cobb. Those two combined for a total of 68 catches in 2021. The former has a career high 40 catches – Cobb, on the other hand, is mainly a slot receiver and turns 32 in August. 
Behind Lazard and Cobb are Amari Rodgers, Malik Taylor and Juwann Winfree.
Of course, the team anticipates several arrivals. There are top veteran receivers available, including Odell Beckham Jr., Julio Jones, Jarvis Landry and Will Fuller. They could also look to bring in the likes of DeVante Parker or Laviska Shenault via trade.
Where the NFL Draft is concerned, Green Bay has 11 picks, four of them top-60, and they will be encouraged given the pool has plenty of receivers. 
It will be interesting to see how they go about their business on the acquisition front. Fans are expecting to see a team capable of winning the Super Bowl at the end of 2022/23. The Packers are 14/1 to go all the way next year and folks looking to take advantage of the early odds could also look into a BetMGM bonus code to make the deal even sweeter.
A new WR room
Replacing an All-Pro in Adams and the biggest deep threat, Valdes-Scantling will be pretty difficult. While it's expected that a formidable team is what goes into next season, it would be unreasonable to anticipate as great a receiver lineup as last season's.
Fortunately for the Packers, they have time on their side. 
LaFleur has only recently broken his silence on the Adams trade. The Packers got a first and second-round pick for this year's draft in exchange for the player, who spent his entire eight-year career in Green Bay before the move.
Having come in as a second-round pick, the former Fresno State star has blossomed into one of the best wide receivers in the league. He's a five-time Pro Bowl player and two-time All-Pro. He caught a career-high 123 passes for 1,553 yards and 11 touchdowns last season.
"Sometimes you got to make some tough decisions," LaFleur said on the trade, per NFL.com. "Certainly appreciate everything Davante brought to our team. I mean, he is the best receiver in the National Football League, so that was a tough one for me personally and for our organization."
The Packers decided to trade Adams after he told the team he would not play under the franchise tag. 
Asked if he tried to talk the player out of leaving, LaFleur said there was nothing to talk about.
"Well, there really wasn't anything to talk about," he explained. "I mean, you're going through a contract negotiation and certainly it was just one of those deals where, like I said, a lot of tough decisions had to be made."
Homeward bound
Adams said he wanted to be closer to his family, a factor that was the main influence on his decision. He put pen to paper on a five-year deal to the tune of $142.5 million with the Raiders after getting traded. $67.5 million of that is guaranteed.
"Ultimately, it was just for my family situation, I got another baby on the way. Quality of life obviously is another piece of it that means a lot to me," Adams remarked. "I have a lot of family in California that's never been to see me play before. Grandparents, my grandmother wasn't doing well, she was in the hospital recently. Just kind of reflecting and thinking about life things and stuff that really matters in this world, that's stuff that matters to me.
"That's stuff that's weighing on my mind when there's a decision needs to be made. Do I want to be able to go through my whole career without having either of my grandparents on either side, see me play? And I didn't like that. Obviously being in Vegas, it gives them a much better opportunity. My dad drives everywhere, so he'll be able to make that happen. It's a little harder to drive to Green Bay. It's a dream come true to be able to do this thing and ultimately get it done."