No matter if he is a franchise player, an average starter or a complete bust, picking Jordan Love in the 1st round was not a wasted pick. Period. End of Story.
The exhausting chatter from NFL talking heads and some fans that Packers GM Brian Gutekunst threw away a pick on Jordan Love is rubbish. Some say he "owed" Aaron Rodgers a wide receiver or some player other than a quarterback. That was nonsense then, and remains flawed logic today. This was true long before some hopeful reports on Love's performance this summer.
Rodgers trending down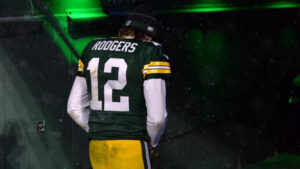 An NFL General Manager has to think about their team today and also 2-3 years out for roster building and salary cap planning. In 2020, Aaron Rodgers was coming off several of his least impressive seasons, which included assorted injuries and his 36th birthday. It would have been irresponsible for Gutekunst to not be looking for a quarterback. I didn't love the Love pick. I do respect and understand it.
Let's take a look at the failure rate of NFL quarterbacks. Sorry Bears, Vikings and Browns fans, this might trigger your PTSD. Let's look at 1st round picks since 2002. We'll exclude '21 and '22 because it's too soon to judge those players. For each QB drafted in the 1st round from '02-to-2020 I graded as a "franchise", "viable starter" or "bust." By my, admittedly crude, judgement 16 QB's drafted since 2002 became "franchise" quarterbacks, 15 survived as viable starters and 28 were busts. I excluded Jordan Love because at this point he could be a franchise, average or bust.
Odds and math
59-times NFL GM's took a swing at a quarterback in the first round of the draft since 2002. They completely blew it, or mostly blew it on 43 of those picks.
Love may not live up to the spot he was drafted. That doesn't invalidate the draft strategy. If you're Brian Gutekunst, or any NFL GM, you have to roll the dice more than once to improve your odds. At the high stakes quarterback craps table, another dice roll is never wasted.