The average NFL career lasts just 3.3 years. That, according to the league players association.  So, the great majority of players never even sign a second contract. For those lucky enough to earn that payday they can make in 2-3 years, what many of us make in a lifetime.
How hard would you work if you knew your performance could lead to the payday of a lifetime? Could you manage that kind of pressure?  NFL players on the cusp of the all-important second contract face that pressure and opportunity daily.
Show them the money
For Elgton Jenkins, Rashan Gary, Darnell Savage, Alan Lazard, Robert Tonyan, Yosh Nijman and others, their 2022 performance could lead to some sweet paychecks.
Most would say that Gary and Jenkins have already established high price tags, and 2022 may be the time to push their prices even higher. Their extensions may well come during the season. The timing is a game of chicken between the team, the player and their agents rolling the dice on exceptional play versus injury risk. It's likely the Packers will extend them both, and it won't be cheap.
Setting their price
Lazard and Savage may have the widest range of outcomes. Although Savage was a number one pick, there were questions whether his 5th year option would be picked up. It was. Still, his play has been up and down. At times he's been an above average starting safety, and at other times he's been, well, not so much. A breakthrough 2022 may add decimal points to his next contract.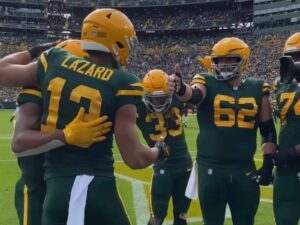 Alan Lazard does not have great pedigree or elite athleticism, but his opportunity is without equal. There are more than 200 targets to account for with the departure of Davante Adams and Marquez Valdez Scantling. Beyond all those potential targets, Lazard also has established trust with Aaron Rodgers and the coaching staff. With Christian Watson and Romeo Doubs in his rear view mirror, (those objects may be closer than they appear) Lazard could hit a big deal with someone other than Green Bay. No one expects him to hit a major contract as many wide receivers have signed in the last 3-months. But who's to say he couldn't?
Bobby Tonyan coming off an ACL and Yosh Nijman looking for starter status are other contract "headaches" the Packers would love to have. There are also money challenges involving proven veterans who've already hit at least one big payday, but that's another story.
Is there a payoff?
Do these contract pressures make for better performances? Time will tell. For Lazard, Savage and a handful of others, their time to cash-in, is now. Players angling for that second contract could be a key ingredient to a Packer season ending well in February.