The Green Bay Packers picked up their first win of the preseason Friday night at Lambeau Field. There was some good, and some bad. Jordan Love looked better than last week on the good side, special teams struggled once again on the bad side. The Packers have to be down to 80 players by Tuesday and that shouldn't be a problem. The cut to 53 next week is the real deal.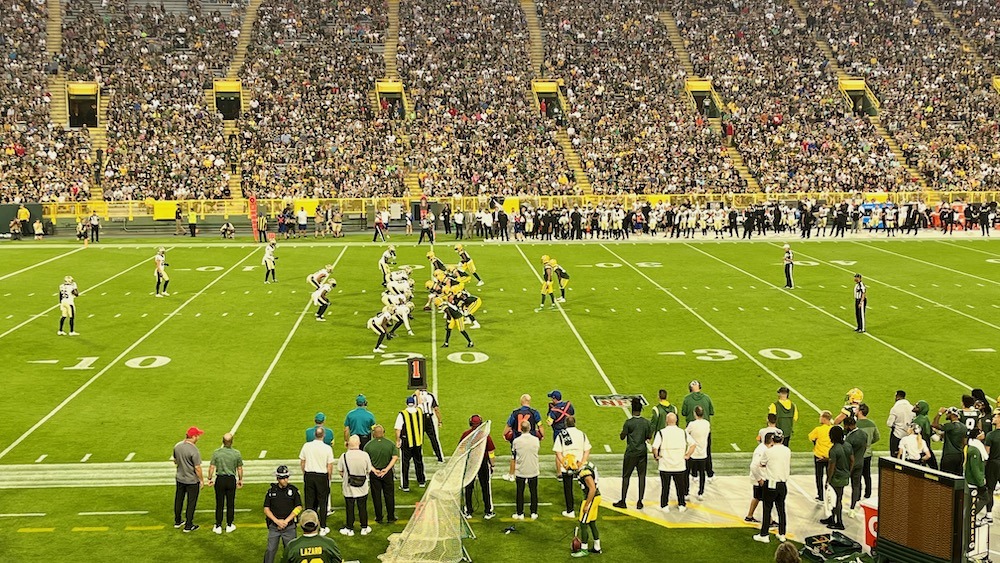 I went to the game and sat behind the Packers bench and it was so odd not seeing any name players anywhere. I did see Jaire and a few others hanging out in the bench area but it was pure preseason all the way. The crowd was full of kids and they were having the time of their lives. I'm sure my first visit to Lambeau was for a preseason game. The only thing that sucked was the crowd doing the wave during while the Packers had the ball. That is a sure sign it's not a Sunday crowd.
Are you ready for the college football season? If not, let Picks For Tonight help you out with their college football computer picks. Find point spread, moneylines and over/unders. Start winning now. Starting winning tonight!
Jordan Love Part II
In his second start of the preseason Love looked more poised and was definitely a little more careful with the ball. He was again the victim of drops by his receivers that hurt his numbers. But he definitely looks like he is getting better. Head coach Matt LaFleur said something clicked a few weeks ago and he has been getting better ever since.
Love's best plays came when the Packers had their starting offensive line in the game. When the substituting stared Love was under greater duress and he had to hurry his release. But the first half showed the Packers' offensive line is probably going to be just fine until David Bahktiari and Elgton Jenkins return. Bahktiari was activated off the PUP list today, a huge step I wasn't sure ever was going to happen.
Random this and that
The Packers may need to try out some tight ends. It doesn't look like Tyler Davis is going make the team. He had a drop-turned-pick last week and fumbled his only opportunity against the Saints. The Packers did sign Nate Becker last Tuesday and he had one catch against the Saints. He also had a great block on a Tyler Goodson run that garnered him some high fives when he returned to the bench.
Speaking of Goodson. Going to be hard to not keep him around as the third running back. This dude has a spark to him and great feel for finding the hole. And once he finds it he shows a real burst getting through it. And throw in the fact he is an accomplished receiver he comes pre-made for the Packers' offense.
Linebacker Isaiah McDuffie is a beast! This guy was all over the field with four solo tackles and two assists. And he brings the heat as well. I'm going to keep an eye on him this year.
Special teams still look rough. They gave up a long return and just look shaky yet. Not ready to write them off, though, most of the guys playing Friday will be gone in 10 days.