I'm  old enough to remember none of the 1960's glory years. My first Packer memories are of the 1971-72 seasons. Weird scenes and fuzzy recollections of Bart Starr coming to the sideline holding his throwing arm; a nearly spent Ray Nitschke dragging a bad leg on his way to a pick six. Then there's that one great division title in '72, amidst the Dan Devine dumpster fire.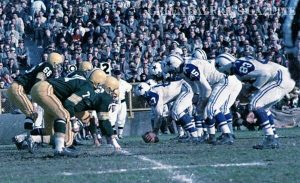 As a Packer fan coming of age in the 1970's-and-80's, I learned to expect losing. We learned that lesson over and over. To dream during those two long decades was to dream of .500 team that "might" flirt with playoff contention. Most of the Forrest Gregg and Bart Starr years were pretty dark ones in Packer lore.
Quality and Consistency
Combing my memory for this history is to remind my fellow Packer backers to enjoy the ride. Since 1992, we've been pretty spoiled as a fan base. Other than the Patriots, who has had a better 30-year run than Green Bay? Not many, if any.
While coming up short in the playoffs in 2020, '21 and '22 were painful pills to swallow, we continue to have a consistent winner to look forward to each week. Although we have "only" two Lombardi trophy's in the last 30-years, you know fans in Detroit, Minnesota and dozens of other NFL fan bases would gladly trade for our win-loss records.
So what about 2022?
This year the Packers have a deep talented roster; a presumptive HOF-QB coming off back-to-back MVP's; a defense that's loaded (on paper) featuring 7, yes 7, number 1 draft picks that could be among the best in the league; they're in a weak division in the weaker conference. Leaving training camp the roster looks deep and about as healthy as we could hope.
Let's not forget that our starting line-up will soon feature 3 All-Pro level players (Bakhtiari, Jenkins and Alexander) that missed most or all of last year.
A trip to the desert in February?
My prediction for 2022 is the Green Bay Packers coast to a Division title and they exorcise the LaFleur/Rodgers recent playoff demons by winning the NFC Title. On February 12th, 2023, the Green Bay Packers will defeat the Buffalo Bills in a nail biter to notch a 14th World Championship. In the unlikely event that these optimistic prognostications go awry, remember to enjoy the ride.