What's worse than an uninspiring game plan? Being too foolish or stubborn to change course when you see it's not working. On Sunday in Minneapolis, Coach Matt LaFleur had numerous blinking light alerts that their plans were not getting it done. Mostly, they ignored those warnings.
Game plan changed too little, too late
Although they slowed the bleeding in the second half, MLF and his assistants didn't do enough in-game modifications to salvage a winnable game. That's on Le Fleur, and to some extent Joe Barry and Adam Stenavich. It's hard to tell what exactly the offensive game plan was, but even the untrained eye would call it disjointed. Except for the second drive of the second half that got the Packers only score, the offense felt out of synch.  There were clearly not enough touches for their two best offensive playmakers, Aaron Jones and AJ Dillon. The lack of commitment to the run game provokes the age old question, is that on the Coach or the QB who'd rather throw it?
As for the defense, anyone who watched Justin Jefferson slice the Packers up on the opening drive could see something was not right. Maybe if it were better executed a zone defense could have worked. But when you've paid a cover corner like Jaire Alexander, doesn't assigning him to lock down Jefferson just make more sense?
Not as simple as man-to-man coverage
Yes, having one guy play man coverage complicates things for the other 10 players. What wasn't complicated was Jefferson moon-walking through the Packers zone defense.
My point, the Packers had nothing to lose my trying man-to-man coverage, yet they stuck with the zone and Jefferson put a 158 yards and 2 TD's on them by halftime. Presumably the changes they made in the second half helped slow him down. But with a 17-point lead the Vikings also altered their approach to drain the clock.
Offense now Davante-less
In fairness, most football observers expected a bumpy adjustment to the loss of a proven star like Davante Adams. It's likely we'll see an offense that will sometimes look disjointed for many weeks to come.  Still, I expected Coach Matt LeFleur and Aaron Rodgers to be  highly aware of a need to be flexible to doing things differently. Hopefully we'll see that flexibility in the coming weeks.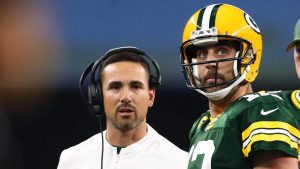 There's a lot to like about Coach Le Fleur. 39-regular season wins in his first three years doesn't happen by accident or with a coach who doesn't know what he's doing. Certainly it helps having a proven top flight QB like Rodgers, but that alone doesn't win a team 39-games.
As much credit as Le Fleur gets for stellar regular seasons, his season openers and playoff performances have been pretty bad. One way to address those performances would be by making in-game corrections in real time to shift away from plans when they're not working.