There's no such thing as a "must win" game in September. There just isn't. Dividing the contenders from the pretenders mostly takes place between Halloween and Christmas in the NFL. Nonetheless, the Packers-Bears game Sunday night is high stakes for the Packers.
Favorite pressure
Few would question the Packers are the better team on paper comparing most of their roster with the Chicago roster. The Packers should win this game, and win it convincingly. The Packers are heavy division favorites and Super Bowl contenders. The Bears are in rebuild mode, and could compete for a top pick in the draft next year. "Competing" for the top draft pick translates to—they may be the worst team in the NFL.
Week 1 mirage or reality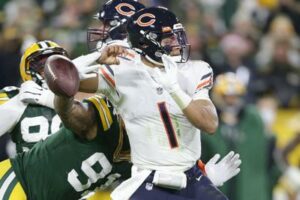 In spite of those perceptions, the respective week one performances of Chicago and Green Bay open the door to many questions.
Have the Bears found a talented coach? Is their roster better than we thought? Will Justin Fields be a franchise changing quarterback? Or, did the monsoon conditions during the Bears upset of San Francisco render all analysis irrelevant?
The Packers may have even more pressing questions. Is their defense an overrated paper tiger? Can Aaron Rodgers not pout long enough over rookie mistakes to maximize their talent? Is the offensive line a below average mess until Elgton Jenkins or David Bakhtiari return? How badly were Matt La Fleur and Joe Barry outcoached by a rookie Vikings coach? How many more times will the people responsible for distributing "touches", La Fleur and Rodgers, tell us after the game that Aaron Jones and AJ Dillon need more touches?
Should win does not = "will win"
The Bears have nowhere near the skill position talent the Vikings do. Their defense might be a closer comparison to Minnesota. Still, I'd give the Vikings the nod if I had to choose. Even without their preferred starting offensive tackles, the Packers should win this game convincingly at home.
With a much tougher foe a week from Sunday in Tampa, the Packers could take a weaker opponent for granted. Unless they enjoy a panicked fan base and media sharks circling they had better take care of business against the Bears. If not, a game that's truly not "must win," will surely feel like one they couldn't afford to lose.