The larger than life story of Elgton Jenkins versatility is overcooked. It turns out, he's a guard. There's absolutely nothing wrong with that.
You've heard of past Green Bay Packers offensive guards– Jerry Kramer, Gale Gillingham, Mike Wahle, Marco Rivera, Aaron Taylor, TJ Lang and Josh Sitton. Guards are good. Great guards are even better.
Versatility Virtuoso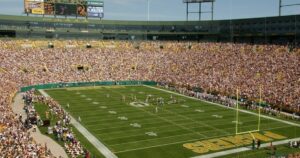 Brian Gutekunst and Matt LaFleur often wax poetic about how Elgton can play every position on the offensive line. Literally, all five. Yet they downplay the detail that Jenkins was named a pro-bowl starter at left guard.
Versatility is a great attribute to have. I'd guess Aaron Jones could play a convincing wide receiver. With a little coaching, Quay Walker might look like a viable tight end. But are those their best positions? The Packers are fortunate Jenkins is talented enough to start anywhere on the offensive line. They'd be smartest to line him up at his best position, left-guard.
Paid like a tackle
There's also the side-story that Jenkins wants to be paid like an offensive tackle, a clear notch over what guards earn. This issue needs to be put to rest. Jenkins salary desires do not equal what's best for the Packers offensive line. When the time is right, Green Bay will make Jenkins one of the highest, if not the highest paid guards in the league. Although he's a great talent, Jenkins is not "owed" tackle pay.
Since his return Jenkins has been playing sub-par right tackle. To be fair, he's not even a full year removed from the ACL injury.
Go left young man
David Bakhtiari's return gives the Packers  the "problem" of having too many talented players on the bench. Yosh Nijman should be on the field and right tackle makes the most sense. Either Royce Newman or Jon Runyan Jr will be going to the bench. Then, the Packers do the easy thing by moving Elgton Jenkins back next to Bakhtiari, creating one of the most formidable left-sides in the NFL.