Eating Cheetos. The daily horoscope. Playing candy crush on your phone. Nutritionally, and intellectually, these are empty activities. In that way, they're just like post draft grades. And yet, they're the junk food my sports junkie mind can't resist.
Grades with meaning
Rather than reviewing worthless day after draft grades, let's give some relevant draft grades. Although I consider Brian Gutekunst and his team to be above average drafters, the 2020 and 2021 drafts suggest otherwise.
D+ / Incomplete
In 2020 the packers draft picks were; 1-Jordan Love, 2-AJ Dillon, 3-Josiah Deguara, 5-Kamal Martin, 6-Jon Runyan Jr., 6-Jake Hanson, 6-Simon Stepaniak, 7-Vernon Scott, 7-Jonathan Garvin.
When your best pick is a guard selected in the 6th round, it's not a good draft. You could argue Jon Runyan Jr. has been a steal. He's been a fixture at starting right guard since early in his rookie year.
AJ Dillon has been a good, not great football player. He was a "reach" in the 2nd. Josiah Degurara joins a series of 3rd round fumbles by Gutey. He's a respectable blocker and hybrid TE- fullback, but not the difference maker that you hope for in the 3rd. Jonathan Garvin has been an ok, end of the roster special teams and 5th edge rusher. The rest don't merit discussion.
We still may Love this draft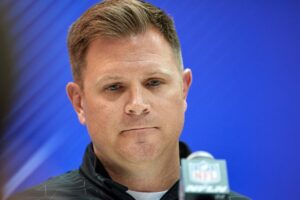 By this time in 2024, the 2020 draft will either end or extend Brian Gutekunst's tenure in Green Bay. In the next year or two we'll have a pretty good idea if Jordan Love can play. Will he make Gutey look brilliant? Or lead to his firing? If Love becomes a top 15-20 starter, this draft goes from a D+ to a B. If Love becomes a top 15 or better NFL starter, an otherwise forgettable draft becomes an A.
2021
Selecting late in the 1st in 2021 the Packers surprised many taking Georgia corner Eric Stokes. Here's the rest: 2nd Center Josh Myers, 3rd Amari Rodgers, 4th Royce Newman, 5th TJ Slaton, 5th Shemar Jean-Charles, 6th Cole Van Lanen, 6 Isaiah McDuffie, 7th Kylin Hill. To be kind, that's not a Super Bowl winning foundation.
As a rookie, Stokes started every game and showed promise. Year two was a disaster. Early in the year Stokes played poorly before getting a serious knee/ankle injury near mid-season. Since speed is his greatest asset, his future looks doubtful.
When healthy, Josh Myers has been the starting center since he was drafted. As a rookie he was decent but not great. His play fell off in 2022. Fair or not, the Myers pick looks worse because Kansas City took All Pro center Creed Humphrey one pick after Myers.
TJ Slayton has contributed, and appears to be a player, but not a special one. Kylin Hill showed explosive potential briefly as a rookie before blowing out his ACL. He was cut late last year for off field issues. Newman, Jean-Charles and McDuffie are on the fringes of the roster. Van Lanen was traded for a 7th.
Speaking of a wasted 3rd round pick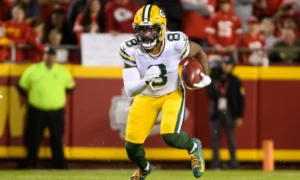 When you look up "draft bust" in the dictionary you may see a photo of Amari Rodgers. As a rookie he could barely get on the field as a returner or receiver. Without his 3rd round pick status he would have been cut by the end of training camp. Then Coaches LaFleur and Bisaccia compounded a bad decision by sticking with Rodgers on returns for half the season in spite of a staggering fumble rate.
The only reason this draft isn't an F is because Stokes, Myers and Slaton still have a window to prove their value. I wouldn't bet on any of them being better than average. The 2021 Packers draft is a currently a D-.