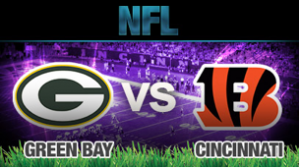 Throughout the history of games played by the Green Bay Packers, many of which have been memorable, few are as memorable as the one they played on September 20, 1992. Green Bay and Cincinnati met at Lambeau Field for an unforgettable game that would propel a young backup quarterback into a life of success.
Anxious Packers fans watched in angst when starter Don Majowski went down with torn ligaments in his left ankle during the sixth play of the game. Up to that point, Green Bay's season stats were 0-2, but all of that was about to change. Green Bay's new General Manager, Ron Wolf, had traded off a first-round draft pick for Brett Favre.
With such a terrible start to the season, both Green Bay and Favre had nothing to lose and everything to gain. Throughout most of the game, the Packers trailed behind the Bengals with no one scoring during the first quarter, the Bengals leading 10-3 in the second quarter and 17-3 in the third quarter. All hope for Green Bay bringing home the win seemed to dissipate. Packers' odds skyrocketed and online betting sites like these took the Cincinnati win for a certainty.
Fortunately, the previous Southern Mississippi player had the potential to change the game. Favre had almost no NFL experience combined with a lack of completions and barely noticeable passes for his former team, the Atlanta Falcons. All-in-all, Favre seemed like the worst possible pick as the game moved forward and he was sacked six times, which resulted in four of Green Bay's seven total fumbles for the game.
After a four-yard completion, Favre came to life on the field, pulling Green Bay out of their slump with a 42-yard pass to Sterling Sharpe. In the process, Sharpe also suffered an injury. Enter Sharpe's replacement, Kitrick Taylor. Fast forward another three plays and Favre hollered, "All go," to his teammates.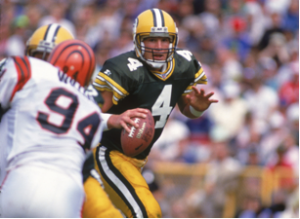 An "all go" play consists of the receivers running down the field for the end zone. Favre carefully watched the position of his teammates, noting the position of each one before delivering a 35-yard touchdown strike into Taylor's awaiting hands. It would be the only touchdown pass Taylor would catch during his six-year career, and yet it would be his and Green Bay's most memorable moment.
Despite losing for most of the game, Favre managed to score not one, but two touchdown drives in the last eight minutes. The pass Favre delivered to Taylor occurred with a mere 13 seconds left on the clock. Favre's ability to throw targeted passes gave Green Bay its victory over Cincinnati with a final score of 23-24.
Despite being the one and only game in which Taylor achieved any kind of success, Favre went on to throw several hundred more touchdown passes for Green Bay. A football legend was born on that day in history when the Bengals met the Packers head on. The Bengals and every other viewer that day thought Green Bay would surely lose the game. No one could have imagined that a star would arise within those last seconds left on the clock.