The Green Bay Packers overcame a slow start to roll over the New York Giants Sunday, adding momentum to an amazing turnaround and giving the Packers their seventh win a row. With it comes a date with the Dallas Cowboys in Dallas next weekend, the winner advances to the NFC Championship Game.
To say the Packers had a slow start might be a little bit of an understatement, they had only seven yards of offense with seven minutes to go in the first half. But they scored 14 points in the last 4:56 to take a lead they would never relinquish, and destroyed the Giants in the second half, ending up with 406 total yards. And on the other side of the ball, they did it with a defensive secondary that is down to their third and fourth string players.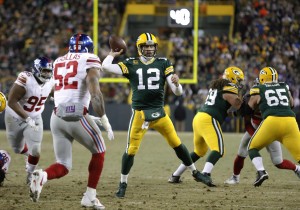 Of course, this whole revival has been for the most part, due to Aaron Rodgers. I don't think even 2011 compares with what he has done this year. The challenge was much harder this year, he doesn't have the weapons he had in 2011 and nowhere near the defense, and this defense isn't even all that good. Some new weapons have emerged during this run, tight end Jared Cook has added a dimension not seen since Jermichael Finley, and wide receiver Davante Adams is beginning to look like a big play player, his TD catch was unbelievable.
The question now is, with Jordy Nelson out next week, and I am calling him out, he's not playing with two broken ribs, will the Packers have enough firepower to beat the NFC's number one seed in Dallas? With Jordy, I would say for sure, without him, and now with a weed charge hanging over Geronimo Allison, I have a few doubts. Allison's revelation today is not what you need heading into the biggest game of the year thus far.
Allison will more than likely be available for all remaining games this year but not good news. Hopefully he informed the Packers of this when it happened.
The Packers are heading to a stadium they have never lost in, but of course, Eli losing in Green Bay shows all good things do come to an end. But this Packers' team is a confident unit that was beaten badly by the Cowboys in week six, which really started the Packers' mid-season slide, as they lost five of six, only beating the lowly Bears.
I'm expecting a different game this time around. More on that later. Still basking in the glory of this one.