In Draft Roundup I'll scour the web and find out who is projected to be drafted by the Packers in recent mock drafts and dig deep into the players, giving you insights into the 2017 NFL Draft prospects. 
Drafttek.com
Adoree Jackson, CB, USC
5'11 185, 4.39 (40), 36″ (vert), 122″ (broad)
Originally from Belleville, Illinois, Jackson moved to California where he played football at Junipero Serra high school. Adoree played all over field and was a 5 star recruit by Rivals.
Jackson played 3 years for the USC Trojans, largely the same way he did in high school. Much like Jabrill Peppers, Adoree Jackson may be better labeled a W (weapon) than a CB playing offense, defense, and special teams.
In his three years at USC Adoree amassed 113 tackles, 28 passes defended, 6 interceptions, and a touchdown while on defense. On offense Jackson ran the ball 15 times for 92 yards (6.1 average) and caught 39 passes for 628 yards and 6 touchdowns. As a kick returner, Jackson returned 79 times for 2,141 yards (27.1 average), and 4 touchdowns. He also returned 46 punts for 578 yards (12.6 average) and 4 touchdowns.
Special Teams
A ton to unpack with this guy so let's start here because it's pretty straight forward and simple. Adoree Jackson was one of the best return men in college football.
Kickoff Return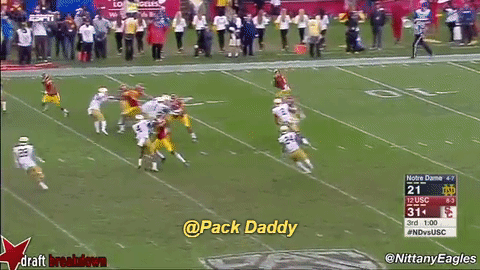 Punt Return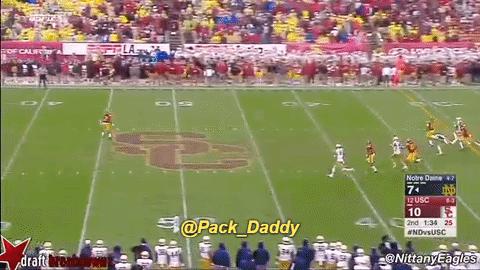 Done!
Offense
This is another pretty simple one to get out of the way. Adoree is a great returner. Return men do well in space. People that do well in space can be used on offense.
As a "weapon" type player, USC made sure to find ways to get the man the ball with a little bit of room and allow magic to happen. Kinda like this.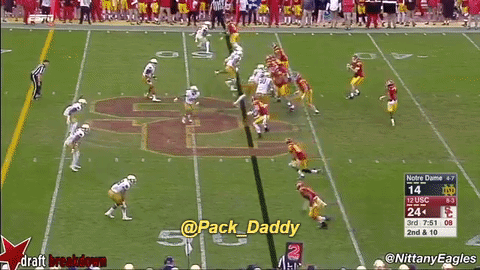 I can't really see an NFL team allowing a player to play offense, defense, and special teams but if J.J. Watt can go out for a play and score a touchdown, I see no reason we can't sneak Adoree Jackson onto the field for a play here and there.
Defense
Alright, now that all the interesting side notes are out of the way, let's talk about the man's position and how he plays it, shall we?
The first thing of note is that he is 5'11. The height issue will scare away some teams and might even cause some teams to push him into a slot corner position. For the Packers this isn't a concern. In fact, 5'11 is the Packers bread and butter height. Both Quinten Rollins and Demarius Randall are 5'11.
Despite the fact that many would look at him and think he belongs in the nickle, I actually think he's much better suited to the outside.
For one thing, slot receivers are going to run a lot short quick pass plays designed to allow the receiver to put his foot in the ground and get enough space to allow the quarterback a window.
Those are the exact kinds of plays Jackson struggles with. Although he's usually a smooth corner, his feet can occasionally get tangled and if he gets thrown at it's usually on comeback routes or some other play involving a quick break where the ball is waiting for the reciever.
On the other hand, Adoree plays as though he's made for the outside. The 4.39 running track star has more than enough speed and might be the best corner I've seen at mirroring receivers. It's as though he knows the receivers route before the snap.
As far as his ability to go up and battle for the ball…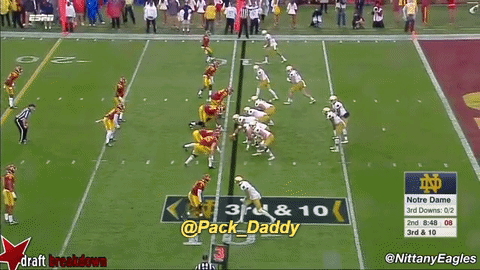 Adoree may be 5'11 but he plays as though he's 6'2. If a team passes him up because of his size it will be a big mistake.
Physicality
As a final note, Adoree is what I would consider to be an average corner in regards to his physicality on defense. Which is a bad thing.
He's a good enough tackler when the receiver is in front of him but on the quick screens to the outside, the 185 pound Jackson is almost never able to get off his block and shoot to the backfield.
As far as run support, he'll run in the general direction of the play but with no real desire to hit anyone. He'll find a blocker to tussle with to make the coach think he isn't avoiding being hit by the running back.
Which, as I said, is unfortunately the norm for most corners and isn't going to do him any favors on draft day.
Draft
Adoree Jackson is thought to be an early second round pick so it doesn't line up perfectly for the Packers. Obviously it's possible but it would require either Ted Thompson to allow his 5'11 fetish to get the best of him in the first round, or for Adoree to slide to the back of the second. Let's all hope for the latter.