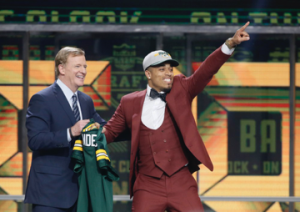 Overall, I think the Packers management did an excellent job playing the long game with the 2018 NFL Draft. Sure, there are some things that I think could have been better … like I didn't think they would make this draft into so much project work … but the upside to that, is they are rebuilding before going into all-out rebuild a few years into the future.
2018 Packers Draftees
Jaire Alexander, CB

Josh Jackson, CB

Oren Burks, LB

J'Mon Moore, WR

Cole Madison, OL

JK Scott, Punter

Marquez Valdes-Scantling, WR

Equanimeous St. Brown, WR

James Looney, DL

Hunter Bradley, Long-snapper

Kendall Donnerson, EDGE
I had mentioned before that the Packers really needed DBs, and I put my stress on the S position. I have also mentioned that I thought in a lot of ways they would be better off adding depth to their LB corp. I thought a guy like Leighton Vander Esch or Tremaine Edmunds would be a fantastic edition to allow Mathews to move back into his natural role of QB-killer.
So it did hurt my insides a bit to see both of those guys go right around both their original pick position and double-traded position of No.18 —Edmunds went No. 16, and Vander Esch No. 20. But as I thought, the organization would wait to address LB issues until the middle rounds. In the end, the Packers might have just secured a solid, lock-down secondary for years to come.
In a complicated jumble of moves, Green Bay traded back to No.27 with the Saints for a 5th-rounder and 1st-round pick next year. But then traded back up to No.18 with the Seahawks who got the Packers 3rd and 6th-round picks … Not a bad day of finagling, if I do say so myself. Like I said up top, playing the long game.
The Packers use this move to snag Jaire Alexander. Jaire is somewhat undersized at 5-foot-10, but oh boy is he fast—4.38 40-yard-dash. He's a converted WR, so we should expect some added interceptions in lieu of batted balls. He's aggressive and explosive and should excel outside or at nickel.
What really surprised me was that 'Gute' came right back at the corner position again and took Iowa's, Josh Jackson. Which, in hindsight, given the players available on the board, was probably the best move there was. A bit more of the prototypical size, Jackson led the nation in 2017 with 26 defended passes and eight interceptions. Jackson really has the talent to have gone in the 1st -round and I think he is every bit as good as Alexander, but a bad day at the combine made his draft stock fall … So I see this as a 2nd-round steal.
No Vander Esch or Edmunds for Green Bay, but Oren Burks has the potential turn into a great coverage LB. And at 6-foot-3, 233-lbs and a 4.59 40 he has the physical versatility to play Safety as well. Given his lack of formality at the LB position, I wouldn't be surprised to see him utilized in that role. He most likely will become an asset on special teams.
It appears that Gutekunst wanted to create some competition between Rodgers' potential targets. He snagged up three wide-outs, most notably, Notre Dame's Equanimeous St. Brown. He has the talent to become an impact player at this level but will need to step up his physicality if he wants a starting role.
Gute also grabbed the best punter in the draft and arguably the best long-snapper as well … look out, Justin Vogel!
2018 Expectations
The Packers are one of the top-5 favorites to win Super Bowl LIII in Las Vegas as well as at the best betting sites online. We'll have to keep an eye on these odds as this new Packers secondary develops.
New England Patriots 6 to 1

Los Angeles Rams 10 to 1

Minnesota Vikings 10 to 1

Philadelphia Eagles 10 to 1

Green Bay Packers 12 to 1
But more than anything, I like what the organization did to ensure that they remain up at the top of the competition for years to come, instead of running with right now and having huge holes to fill and a brutal rebuild period down the road.