The Green Bay Packers have played two very eventful games to start the 2018 season. The third may end up being very blah. I don't know what to think of the Packers first two games. So much drama it's hard to process it all. Aaron Rodgers gets hurt, the Packers come back and beat the Bears, then tie the Vikings after the defense folds. Wow!
The Packers are one-zero-and-one against two division opponents, which is good, and now hit the road to play the Washington Redskins. Like last week, Rodgers won't practice all week but will be available on Sunday. With another week of rest, and an generous line, placing an online bet on the Pack might not be a bad idea.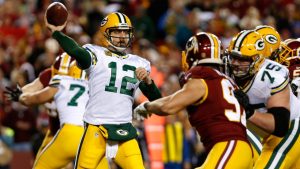 What was looking like an extremely promising season after the Packers made some huge offseason moves that we all pretty much approved of, all hell broke loose when Rodgers got hurt. The courageous return against the Bears and being able to go five quarters against the Vikings means barring further injury Rodgers should be able to play this out.
So why am I so worried about this game against the Redskins? I just think it's kind of a trap game. I guess it's also because I am not sold on the Packers' defense just yet, too. I know I praised them big time after the Bears' win, but damn, they really choked in the fourth quarter last week against a real quarterback. Mitchell Trubisky is no Kirk Cousins.
The Redskins have a real quarterback in Alex Smith. I think this will be a good test for the Packers new defense after their failure against the Vikings. I love how new defensive coordinator Mike Pettine called out his unit for not responding well after the referees took the game away from them on that last drive last week. To be honest, I have not responded well, either.
Anyway, I do not have a lot of confidence in the Packers this week. It's all feel with me and I just feel something flukey is going to happen. The Redskins defense is good and Smith knows how dink and dunk his way to victory. It's a horrible surface. I'm worried. 26-20 Skins.