The Green Bay Packers lost their first game of the season in Washington yesterday in the dump that is FedExField. I don't have a lot to say about this one as it went pretty much the way I expected it would. Maybe a little wider margin of victory than I predicted but certainly the type of game I thought it would be.
One thing is sure, I am not sold on this new defense new coordinator Mike Pettine is running out there. Since holding the Bears' offense to 16 points in the opener they have been shredded by quarterbacks Kirk Cousins and Alex Smith. Not exactly hall of famers, good, but not great quarterbacks. If something doesn't change there this will likely be pretty much like the last seven years, make the playoffs and lose ugly when the defense implodes.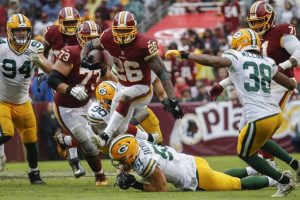 Of course, if the Packers don't get their offense in gear the playoffs will be just a pipe dream. I understand Mike McCarthy and Joe Philbin had to basically start from scratch when Aaron Rodgers hurt his knee against the Bears. Gone was everything they worked on all summer. So I kind of understand the "work in progress" statement from Rodgers, I did think they could adjust a little faster than they have. It won't get any easier with the Buffalo Bills coming to town next weekend. The Bills held the Vikings to six points yesterday in Minnesota to shock the world.
I'm not going to get into the Clay Matthews thing. We all know what a joke that is. I like the new helmet rule, but this new roughing rule has gone too far. It's take away a real football play, not a dirty hit.
The Packers have some soul searching to do this week with a tough three game stretch before the bye. After the Bills it is at Detroit against the rejuvenated Lions and then home against San Francisco. Obviously the 49ers game got a little easier with the injury to Jimmy G.
Will be interesting to see how this team responds. Must at least go 2-1 and hit the bye 3-2-1 to have a chance to make the playoffs. Who would have thought there would so much drama this early?