Aaron Rodgers is a hall of fame quarterback on the field, but tries to keep himself entertained off the field as well. The Green Bay Packers' best player who regularly leads the charts in touchdown to interception ratios and has an impeccable passer rating is also ambitiously pursuing many off-field activities.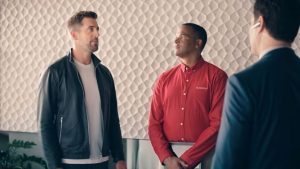 He has appeared in many commercials, took part in TV shows, has a charity with his name, and recently even entered into a business venture. If you look at the things which he is doing when he is not playing football, you can notice a certain trend going on with what he chooses to do in his free time.
It seems like Rodgers tries to help the community by donating to his charity, aspires to create a sustainable income after his playing days are over, and that's why he goes into business, but most of all he just tries to have fun.
This is why, it wouldn't be a surprise if Rodgers' next move is to start filming advertisements for the best iPhone UK casinos as they are at the same time fun, can be quite lucrative, and do their fair share of helping the community by paying taxes on some big incomes.
TV Show Appearances
Aaron Rodgers has made several cameo TV appearances in shows such as Key & Peele, The Office, and In Depth with Graham Bensinger. In addition to these TV show appearances, Rodgers regularly takes part in interviews, and always impresses with his natural demeanor and charisma.
In his short cameo in The Office, for example, Aaron Rodgers was a celebrity judge in a talent show in which Andy Bernard, or the Nard Dog as he affectionately calls himself in the show, is absolutely destroyed by Rodgers' honesty when assessing his talent show performance. Rodgers does this with ease and you would think that he has been an actor for ages.
Similarly, in Key & Peele, he joked about the double A in his first name, and in doing so referenced a sketch from the very beginning of Key & Peele in which a teacher was having somewhat of a pronunciation problem with names such as Aaron's.
Business Venture
Rodgers is not just a football player and fan, but he is also an avid NBA lover. In fact, in a recent interview he disclosed that basketball was his first love and that he has followed Milwaukee Bucks ever since he was a child.
That's why when he had the opportunity to purchase a stake in the Milwaukee Bucks, he did it without thinking twice. In fact, in doing so, Rodgers became the first NFL player to hold a stake in an NBA franchise.
Charity Work
Rodgers is the founder of itsAaron a charitable endeavor with a mission to create awareness for organizations and people who are changing the world. He is also involved with and is a supporter of the MACC Fund which helps people in Congo, and often tries to raise money by participating in quiz shows such as Celebrity Jeopardy.