The Green Bay Packers are coming off two straight losing seasons for the first time since pre-Brett Favre. They have spent millions of dollars on the Titletown District across the street from Lambeau Field and millions more on free agent signings this past offseason. Every decision they make going forward will define the direction of this franchise for years to come.
Of course, this all really started last year with the hiring of Brian Gutekunst as general manager and continued with the hiring of Matt LeFleur as head coach this offseason. Those two are charged with turning around what was one of the winningest franchises in the NFL from 1992 to 2017. And now on top of that it was revealed that the Packers had a 98% drop in profit last year. While there were some extenuating circumstances, it has be alarming to some level.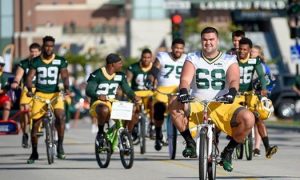 The franchise has many means of income so certainly no reason to panic, but winning on the field is what drives most of that income these days. There was no Packers Pro Shop when the team was losing for two decades in the '70s and '80s. Now Packers gear is seen all over.  Everywhere I go I see a Packers shirt or hat or somebody comments on mine. Will that continue if they start to lose again? By the way, if you want to buy football items online, makes sure you are buying from a reputable source.
LeFleur has a tall task in front of him as first time NFL coaches don't have a real good track record of winning right away. Of course, not many first time head coaches have a future Hall of Fame quarterback in his prime when they take over. That is one thing LeFleur has in his favor as he makes the transition to head coach. He also doesn't have to worry about defense, we hope, anyway.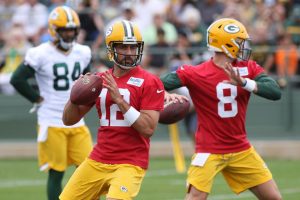 In his two drafts so far Gutekunst has addressed both sides of the ball, with an emphasis on defense. Last year it was CB Jaire Alexander and three young receivers, two of which showed some real promise. This year it was an edge rusher number one, a speedy safety number two. Add two free agent linebackers and this defense, in its second year under Mike Pettine, should be much improved, and that should help LeFleur on offense in a big way.
This roster doesn't feel like that of a losing team. LeFleur has the tools he needs to be successful in my opinion. It all got underway today. This is going to be a fun camp to follow.