The Green Bay Packers are coming off an ugly loss in Los Angeles and are facing a Carolina Panthers team that has won five of their last six games. Unlike the Packers' loss to the Eagles back in September, the Packers were their own worst enemy against the Chargers. They played badly on both sides of the ball and were never really in the game.
It's very odd that they lost against the Eagles in what was wide receiver Davante Adams best game of the season, even though he got hurt late. Then, after winning four games in a row without Adams, he leads the team in targets and the Packers offense is unable to get out of it's own way in LA. Why did they go away from what was working so well in October?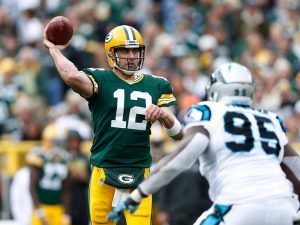 During that four game win streak the Packers relied heavily on running backs Aaron Jones and Jamaal Williams in the passing game. Why they would go away from that and try to force the ball to Adams doesn't make sense. Adams says all the right things but I wonder if he is becoming one of those I need the ball-type guys. His slow start to the season and subsequent injury have already hurt any chance of him putting up big numbers this year. Certainly those who may have played the props on him are feeling the pain. For more information on the aforementioned props, guide to betting on the Packers. Things have certainly changed since the beginning of the year.
Now the Packers need to bounce back in a big way. At least they are at home this time, although the case can be made that Jerry World in Dallas is also home. And it's not just the offense that needs to turn it around. The defense is still getting shredded in the running game and last week starting showing chinks in the pass defense armour.
The Panthers have been much more balanced since Cam Newton went down. And Christian McCaffrey is an absolute beast to stop and a rare MVP candidate at running back.
The Packers will no doubt have their hands full Sunday but I predict they bounce back with a solid win going into the break. Losing would be borderline catastrophic with a bye week and a trip to San Francisco looming. Packers take it 31-21.