The Green Bay Packers effectively put two time MVP quarterback Aaron Rodgers on the clock last night when they took Utah quarterback Jordan Love in the first round of the 2020 NFL Draft. The even moved up to get him. Makes me think the Matt LeFleur-Aaron Rodgers relationship might not be quite the hunky-dory partnership we were led to believe.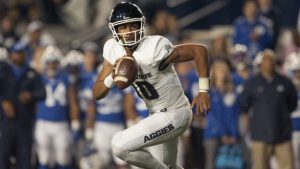 Love is a young, raw, probably not first-round worthy, quarterback. He's only 21. He is by no means ready to start in the NFL. With as sensitive as Rodgers is, I just can't quite figure out why they want to start this drama all over again. Could Love really be the QB of the future? He better be! I just can't wait for sports to come back. And when they do be sure to use DraftKings Sportsbook Promo Code to get back in on all the action.
One thing this pick will do is create huge drama. Much like the drama Rodgers went through when he was picked. The big difference is Rodgers is a lot more sensitive than Favre. My guess is Rodgers is going to make snide remarks about this pick until the Packers trade him. My second guess is Rodgers is gone after next year unless they win the Super Bowl. This is a play-now league, nobody sits like Rodgers did 15 years ago.
Even as I write this I don't know if I like this pick or not. I love what Rodgers does on the field but he doesn't have the same Brett Favre charisma if you ask me. So letting Love sit for a year and then getting a boatload of picks for Rodgers might not be a bad idea. One thing for sure is that the pick of Love means Rodgers will not finish his career in Green Bay.