As some of the great quarterbacks continue to break records, there is one in Patrick Mahomes at the other end of his career already showing signs of greatness.
Boasting the biggest contract in North American sports history, Mahomes has proved to be worth every penny as he looks to lead the Kansas City Chiefs to back-to-back Super Bowls, and with it himself join an elite list of quarter-backs to achieve that feat.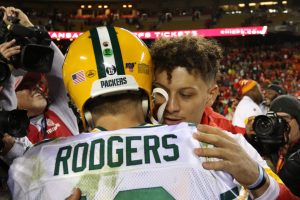 His Chiefs are the increasingly overwhelming favorites with the bookmakers on acebettingsites.co.uk to triumph in Florida in the New Year, ahead of New Orleans Saints, Pittsburgh Steelers and Aaron Rodgers' Green Bay Packers.
Rodgers is in the twilight of his 16-year career and continues to reaffirm his status as one of the best players of all time, recently becoming the fastest player to reach 400 career touchdown passes, which he reached in 193 games, beating the previous record set by Drew Brees by 12 games.
Further to being second on the NFL's all-time regular season career passing rating, Rodgers has also hit the milestones of 4,000 career passes and 50,000 career yards this season.
But while the efforts of his career come to fruition, it's hard to ignore the feats of Mahomes, who himself has started to break records – notably becoming the fastest player to reach 10,000 career passing yards.
For all of Rodgers' achievements, he still has just the solitary Super Bowl win to his name, back in 2010, something that Mahomes has already equalled in just three seasons in the NFL; but it remains to be seen if he can replicate Rodgers' longevity.
With just one loss all season, Mahomes and the Chiefs have won six in a row and with Mahomes throwing just one interception, he has surged to the top in most of the quarter-back stats. He's just got the edge on Rodgers, although the Packers QB has thrown marginally more touchdowns.
Their recent performances in week 11 of the season may point to the difference, with both quarterbacks down by three late on, Rodgers settled for a field goal to force an overtime period which the Packers would ultimately lose against Indianapolis Colts while Mahomes threw a game-winning touchdown against Las Vegas Raiders.
The run in for the rest of the regular season might enable Rodgers to catch up, with the Packers set to play three of four games against opponents with losing records – Detroit Lions, Carolina Panthers, Tennessee Titans and Chicago Bears. He has been NFL MVP twice before, in 2011 and 2014.
Some analysts believe Mahomes has benefited from having a couple of elite targets to aim for, in Tyreek Hill and Travis Kelce, while Rodgers has only really had Davante Adams as a primary target as they've struggled with injuries. Mahomes may also benefit from the fact that the Chiefs appear to have a greater chance of scooping their conference title than the Packers do.
Mahomes has a couple of big games left in the regular season to make his mark, notably against Tampa Bay Buccaneers and New Orleans Saints, and his performance in those may well secure a second MVP for him, or open the door for Rodgers to pinch it.
However the battle pans out, the two have already talked of their mutual respect for each other, with Rodgers calling himself a Mahomes fan, and Mahomes saying he models his game on Rodgers.
Either way, it looks like one of them will be adding another MVP award and maybe even another Super Bowl title – we just need to wait and see which one.