The Green Bay Packers pulled off a minor miracle. They were able to sign running back Aaron Jones before he became a free agent this week. If you have read my blog this past year you know how I feel about Jones.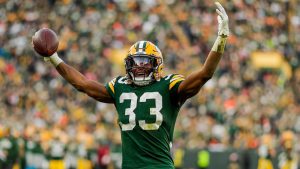 Jones is the straw that stirs the drink on the Packers offense. Without him the Packers quickly become one dimensional. Case in point the Packers loss to Tampa in the NFC Championship game. Without Jones on the field on that last drive the Packers were hamstrung when they got in the red zone. Jones is a scoring machine and a threat to break a big run every time he carries the rock.
Jones wanted to stay in Green Bay and may have given the Packers a slight discount to do so. Although, I'm not sure $12 million a year on average is that much of a discount. To me it was a no-brainer paying the man. Now the Packers must get under the cap and make some room to fill other needs when free agency officially starts.