As of this writing the Packers have made no moves before the Tuesday 3pm trade deadline. It's a tough call whether they should make such a move. It will be telling whichever way they go.
Difference maker needed
Certainly, they are desperately thin at wide receiver and also lack a tight end that can stretch the field. On the other hand, would a trade at this point feel more like rearranging the deck chairs on the Titanic? Is there a wide receiver available via trade that would join the team in November who could actually move the needle?
Wide receiver is hardly this teams only need. They could use one or more difference makers on the defensive line and should consider a safety considering Adrian Amos's contract is winding down. At the other safety spot you'd be hard pressed to find a more disappointing starter than Darnell Savage.
All in All gone?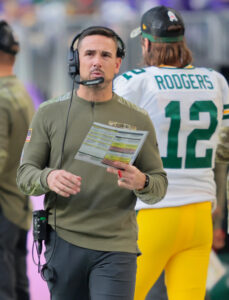 Even without Davante Adams the massive contract given to Aaron Rodgers, along with extensions to De'Vondre Campbell and Rasul Douglas suggested the Packers were "all in" for a Super Bowl run in 2022. 8-games in they look nothing like a Super Bowl contender. You have to squint and dream pretty hard to see them landing a late Wild Card. In fact, a 3-7 finish may be nearly as likely as reeling off the 7-8 wins they'd need to secure a Wild Card.
They may have played their best game of the season Sunday night at Buffalo and still lost by 10. Any critical review suggests the game was not as close as the final score as Buffalo seemed to take their foot of the gas in the second-half. Is this a team to gamble future resources on?
Damned if you do….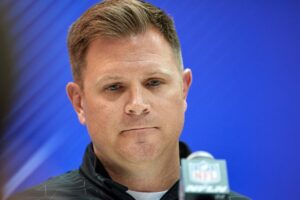 In many ways the current circumstance handcuffs Packers G.M. Brian Gutekunst. To land a difference maker before the deadline he'd need to give up a 2nd round pick, maybe even a 1st. Given the Packers current and best guess on future performance, those picks increase in value every week.
To manage the cap next year the Packers will be dealing with bloated cap numbers on two of their best, albeit aging and injured, players in Rodgers and David Bakhtiari. Not only that, the Packers must find a way to resign Rashan Gary and likely Elgton Jenkins. They can't afford to mortgage 2023 by trading away what could be a top 40 pick in a year when they'll desperately need cost-effective talent.
Just a body
I have zero inside information. My gut says there will be no trade at all. If there is a move it will be a player with a much lower price tag than a DJ Moore from Carolina. Think a Kendrick Bourne from New England or a Corey Davis from the Jets, and only then if we could fit them under our salary cap and pay a lower draft pick price tag.