"When you have a tough decision to make, make it immediately." -Unknown
There's an order to how this stuff needs to happen. Unfortunately for Joe Barry, his firing needs to happen first. The sooner the better.
In a column today, Tom Silverstein of the Milwaukee Journal-Sentinel suggested that Joe Barry has to go. However, he also wrote "what good would it do now?" In-season firings don't help a coaches reputation and reek of desperation according to his commentary. That's a reasonable argument.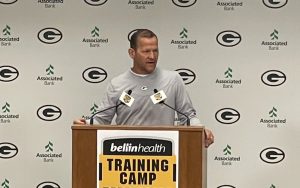 What good would it do now?
The counter to "what good would it do now?" is another question. –How does keeping a lame-duck defensive coordinator in place help the team or Joe Barry? It doesn't. The players on this defense need to know they've not been good enough. Such a move would be a wake-up call for all of them.
I don't often advocate for in-season firings. They rarely lead to something good. In this case, it's truly the best alternative to move forward.
Overpaid
The Packers have the second highest paid defense in the league. Depending on which statistical measure you look at, they're ranked 21st overall. 2nd in pay, 21st in performance. Does anyone watching Green Bay play defense this year need a statistical grade to know they're unreliable and they often stink?
They have 7-first round picks, most of whom have flashed promise or shown All-Pro ability. They were supposed to be the anchor keeping this team in contention. That has been far from the case.
There's plenty of blame to be shared for the defense looking like a mess against Tennessee and erratic. up and down performances throughout the year. But you can't fire Kenny Clark or Jaire Alexander or others. Their talent and contracts mean most of them are here for the near-term.
Team leadership must believe they have enough talent to be better on defense. Assuming that's the case, who is to blame? More to the point, what changes can be made as soon as possible to address some of the issues heading into 2023?
Interim coordinators in waiting
Jerry Gray has experience being a defensive coordinator and he may be the steady hand that could lead them for the rest of this season. He also might show that he could be "the guy" in 2023. A more exciting, bold ,although potentially riskier, interim coordinator is already on staff. Fresh off his firing in Detroit, Aubrey Pleasant was hired as an offensive assistant. My gut tells me LaFleur and Gutekunst grabbed Pleasant when he became available for this exact moment. Pleasant is a bit green to be a coordinator, but he has also been mentioned in NFL circles as a potential hot coaching candidate.
First of many
Sacking Joe Barry won't do much to change the trajectory of this season. Still, it's the first and most logical move to make. LaFleur and Gutekunst need to show they see what's going on and their actions need to show that it's unacceptable.