Bad plays. So. Many. Bad plays.
The loss to Detroit was more painful because it looked like a microcosm of the entire season. Like this one, most games looked very winnable. But consistently unimaginative play calling in the red-zone, mental errors on defense and a few lost turnovers were just enough to doom the Packers.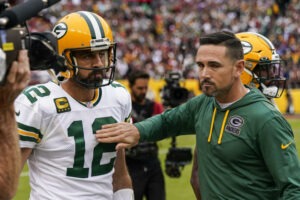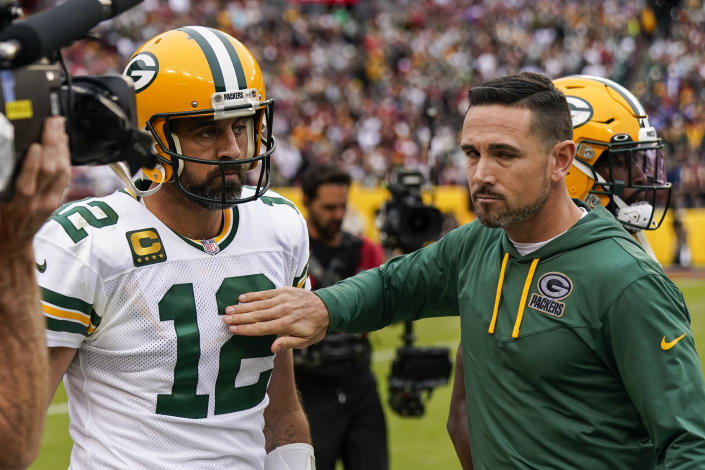 Aaron Rodgers, Coach Matt LaFleur or both must think run plays out of the shotgun formation work inside the 5-yard line. Clearly, they do not. One or two hand-offs to Dillon down at the goal line out of shotgun were some of many bad play calls in the game. Another was Rodgers confounding choice to throw an off target prayer in the right end zone early in the game when it appeared he could run it in himself. He obviously does not trust his 39-year-old legs as he did 5-or-10 years ago, but it was right there and he passed. At worst he'd have made it to the 1. Instead of a 7-0 lead the Packers get 3.
Why? Just why?
Later in the first half on 4th and 2, the Packers run an end-around to Alan Lazard that gets blown up for a 2-yard loss. Lazard is a solid third or fourth receiver, a good blocker with reliable hands. Fast or elusive, he is not. With Aaron Jones, Christian Watson, Keisean Nixon or Samori Toure the question is not why did they run this play, it's why would Lazard ever be the ball carrier on this play.
Late in the first half the Packers were on the move for what could have turned into 3 or 7 points before half-time. Then, a good looking Aaron Jones run went south when he fumbled and Detroit recovered. This proved to be a 3-to-7 point swing. More importantly, it swung momentum to the Lions. Jones has been a fantastic player and person for the Green Bay Packers, no question. Still, like fellow stars Aaron Rodgers and former wide-out Davante Adams, they've not played like superstars in the biggest games in recent history. More on Jones in the weeks ahead.
Bad plays, worse timing
Finally, two of the most baffling plays we've witnessed in years.
Late in the first half Detroit lined up for a tough 48-yard field goal. The Packers called timeout, but Detroit was getting ready to snap the ball. Rasul Douglas decided to walk down the line of scrimmage and move the ball, shoving ensued. He retaliated and a 48-yard try became a very makeable 33 yard kick. If Douglas had flopped on the ground when he got shoved it might have worked in Green Bay's favor, but that doesn't matter. He defended his stupid choice after the game. Douglas's choice, and his defense of it reflect badly on him, Joe Barry, Matt LaFleur and other defensive coaches. It was stupid and not helpful, it cost 3-points, plus momentum going into halftime.
Late in the game with Detroit marching toward a decisive score the Packers committed 3-personal fouls on one play. Jarran Reed was not called for his forearm head shot on DeAndre Swift. Quay Walker was flagged and ejected for shoving medical personnel on the field. Devonte Wyatt was not flagged for his stupid chest bump shove of the same medical person. Walker gave numerous well stated apologies. I haven't heard if Reed or Wyatt commented. Humble appropriate apologies are fine. What's a lot better is playing smart all the time, most especially when trying to stop a critical late-game score.
Walker and Wyatt are young and can learn and grow from such a stupid loss of composure. Had Walker not been ejected, he may have been the player to blow up a clinching 3rd down conversion by Detroit.
Lack of coaching
When players make dumb mistakes there's an element of "they're human, it's an emotional game" and a larger element of "quality coaching greatly reduces those mistakes." If you wonder why LaFleur and Barry's job security is in question, think back to who's responsible for such bad, preventable plays.