Devout Packer fans need no "darkness retreats." We have the grim march from the NFL draft in late April until camp opens in late July. These, the darkest 10+ weeks on the entire sports calendar.
So, with little actual news happening, it's time for random observations. We'll also throw out a few guesses, I hesitate to call them predictions because that means I think I know, which I don't. But at this time of year, why not some modestly informed guesses?
1. The overwhelming youth on this team could lead to high "highs", and low "lows". Big plays, improvement, growth and cohesion could give a young team swelling confidence and a little swagger. Botched plays by struggling rookies and second year players all being led by a first time starting QB could put a team in a tailspin.
2. The win floor is 5, the ceiling is 10. This guess is based on quality talent at many positions and a team that was unusually out of synch last year. Also, cautious optimism about Jordan Love.
3. Anthony Johnson Jr. will be the opening day starter at safety. At worse, he'll be starting by October. This guess is not so much confidence in Johnson, as it is a comment on an unimpressive collection of safeties on the roster.
4. Zach Tom is too good to not be in the starting. His talent and versatility will push him into the starting offensive-line unit somewhere. Returning starters Josh Myers, Jon Runyan Jr. and Yosh Nijman will need to prove they deserve to start.
5. Sean Rhyan is who we thought he was, yet another 3rd round bust. Hopefully, this guard or right tackle candidate makes my guess sound clueless.
6. Excluding Jordan Love, the single player we need to take a major jump in performance is Devonte Wyatt. The Packers run defense was pretty bad last year. They also need to replace Dean Lowry, Jarran Reed and Adrian Amos. Wyatt needs to make an impact as an interior pass rusher. His more important contribution is helping to stabilize the interior run defense.
7. Given the choice, I'd rather Halle Berry than Joe Barry as our defensive coordinator. But, Joe Barry is at the most important season of his NFL coaching career. There is too much talent and high draft pick investment on the defense for them to not be inside, or very close to a top 10 unit in the league. The pressure is on Joe. If you can't get it done we're calling Halle.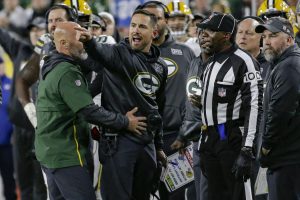 8. Speaking of pressure coaching jobs….. Coach Matt LaFleur dazzled in seasons 1-2 and 3. Season 4 was the kind bottom dropping out that gets a guy fired. Now we're told we will get to see the real LaFleur offense. I hope the "true" LaFleur offense is worth the wait. Caution is advised.
9. How can a fan not be excited about rookie tight-ends Luke Musgrave and Tucker Kraft? Just to temper your hopes, know that rookie tight ends have notoriously limited impacts.
10. Gutey has a crush on project tackles,… enormous projects. Caleb Jones is 6'9" 370, Luke Tenuta is 6'8" 315, rookie Kadeem Telfort is 6'7" 320. The Packers also have a "little" guy competing for a tackle spot, Rasheed Walker at 6'6" 325. Could one of these giants follow the Yosh Nijman route and find a path to a starting job? It's a big topic.